PlayYourCourt.com
179405
BIO
Tennis was my first career for many years and has always been my passion. I love helping students enjoy the game and learn it quickly. I focus on teaching good form so they have unlimited potential to improve while reducing chances for injury. I am laid back but goal oriented and give students homework so they progress each week. I was fortunate to learn from top players & coaches and have played and coached all over the US and the Caribbean. I do hitting lessons and have clean strokes so teach good form by example. My former training as a college player and coach, and 2 years of academy training equipped me to help club players improve rapidly with a good mix of solid mechanics and match tactics. Kids and Adults are drawn to my style of coaching, This is now my 3rd HS coaching job and I enjoy helping kids get the most out of their HS team experience while aiding some to earn college scholarships. Lastly, I currently compete in USTA events and am 16-4 this season.

Languages Spoken
English, Some, Spanish
USPTA & USPTR 35 yrs coaching nationally and Internationally
Coached 2000+ students, all ages, worldwide
Balanced Entertainment, Education, Exercise. Focused on mechanics.
Active competitor and coach. 16-4 USTA leagues and tourneys.
Forme Collegiate Player and coach. Currently nationally ranked.
Location
Kirk can recommend a location or come to any court inside the highlighted service area below.
jv morris tennis center

1103 north blvd north charleston, SC 29405

Lenevar Playground Park

1309 S Lenevar Dr Charleston, SC 29407

Fort Johnson/Harborivew …

604 Fort Johnson Rd Charleston, SC 29412

Corrine Jones Playground…

131 Peachtree St Charleston, SC 29403

lenevar park

1305 W Lenevar Dr west ashley, SC 29407
Show More
Indoor Court Details
no indoor courts in this area.
AVAILABILITY
| | MON | TUE | WED | THU | FRI | SAT | SUN |
| --- | --- | --- | --- | --- | --- | --- | --- |
| Mornings(7 A.M.- 12 P.M.) | | | | | | | |
| Afternoons(12 P.M.- 5 P.M.) | | | | | | | |
| Evenings (5 P.M.- 9 P.M.) | | | | | | | |
scroll to view more days »
Pricing
Save more with lessons package. Become a PYC member and save even more
Save on lessons, gear, and more as a VIP member.
FREQUENTLY ASKED QUESTIONS
Where will the lessons take place?

Your coach will come to any court of your choice. Not sure of the closest court? No sweat, they will recommend a convenient location.

How do I know I'll love my coach?

We ask you questions and hand pick the perfect coach based on what you are looking for. We are so confident in our coach selection process that we offer a 100% satisfaction guarantee. If we can't find the perfect instructor for you then we will refund your unused lesson credits.

Can I start with just one lesson?

You sure can, although we offer a 100% money back guarantee so most students start with a lesson package to save money since there is no risk.

How do I get in contact with my instructor?

Once you have booked your lesson package, you will immediately receive your instructor's contact information. The quickest way to schedule your first lesson is to call or text your coach and they'll get back to you asap. If your coach doesn't hear from you they'll reach out within 24 hours.

I've never played before, do you work with beginners?

Absolutely! Our certified instructors regularly work with players of all ages and ability levels.

Can I bring a friend?

Absolutely! Each extra person is only an additional $10 per hour. Adding friends to your lesson is a great way to cut down on your lesson costs.
What my students are saying...
"As a former athlete that was new to tennis, Kirk was able to teach me the fundamentals of tennis while igniting the competitive spirit that I've been missing"

"We started lessons with Kirk from a completely introductory level. By our 6th lesson we were able to play matches together and enjoy all the skills we had learned in such a short period of time. If you want to learn how to play quickly and efficiently I highly recommend his lesson style."

"The best coach! On the first day of lessons, he had me playing at half court. I have been truly impressed by his ability to teach me what to do and how to make it so easy to understand and him making sure we have enough time to practice what I've learned to really get me comfortable with my swing or new serve. Fantastic!!"

"Kirk was awesome! My 3 girlfriends and I traveled from Boston to Charleston for a long weekend trip and Kirk met up with us for 2 lessons. He was communicative, flexible, and is clearly a superior tennis coach. We are advanced beginner players and he really tailored the lessons to our level - we picked up several new tactics. Wish we were closer to work with him more frequently!"

"great workout, useful cues and guidance - and we're only one lesson in!"

"Kirk is a great teacher. He is very enthusiastic and keeps my 10 year old love for tennis going. She has improved leaps and bounds."

"Great guy, very knowledgeable about the game."

"I've taken numerous lessons from coach Kirk over the last several months. My results have been much better than I even hoped for. I highly recommend him to anyone who wants to see their game improve quickly while having lots of fun in the process. He has effective tactical knowledge of drills that will address individual points of a player's game. I've seen coach Kirk work with students at various levels of play and he's very effective with all of them.  I've always gotten the sense that he's there because he really loves the game, not because it's a job that he's expected to do.  He has a very clear vision of the underlying weaknesses in a person's technique, and how to improve consistency. After the very first lesson from coach Kirk, I was able to see serious results. By applying what he taught me after only my fourth lesson, I'm finding myself very competitive within my group. I'm excited to continue my lessons with coach Kirk and for the upcoming tennis season!"

"Met Coach Kirk for the first time today for my first ever tennis lesson. Was amazed at how much I learned and improved in just 1 lesson. Cant wait for number 2. So glad I got paired with Coach Kirk!!!"

"Kirk was a fantastic instructor! We had three generations taking lessons — a 7 yr old, 2 adults, and 2 elderly folks, and he was able to seamlessly toggle between us. He's extremely approachable and fun and gave gave instructions. He was really easy to communicate with. We stayed in close touch to figure out lesson timing when it wasn't raining, and he was overall super accommodating. We all improved our game after just a few lessons with him. We'll definitely be booking with Kirk again when we're in Charleston!"

"Had a great first session with Kirk. Very personable and easy going. I would consider myself intermediate, so we spent most of our time hitting with the occasional water break where Kirk would break down my form/technique and give me new tips to work on as we began hitting again, which was exactly what I was looking for. I mentioned I also needed to work on my serve and after 10 minutes already had a more consistent serve and enough ammo to work on it on my own time. We wrapped up the session by playing a few games and he introduced me to another player he coches so that we can practice together. Definitely got more than I bargained for and plan to keep coming back!"

"Kirk is fantastic! My 10 year old niece and I are beginners and he was very encouraging, patient and extremely helpful. We truly have enjoyed working with him. After working with him we want to continue to improve in playing the game. My niece has even talked about wanting to play matches in the future."

"Very engaging and encouraging. Made sure that I didn't get hurt"

"Kirk is a personable and very proficient tennis coach. He transformed our forehand and backhand in the first lesson through clear and easy to understand instruction. We left feeling like we had really improved. We are very much looking forward to more sessions with Kirk!"

"Kirk has been amazing - Motivating and technically very skilled at helping a beginner get going."

"Kirk is awesome! - Very personable and a great teacher. You can tell right away how much experience he has on the court."

"We a total blast and learned a lot during our first lesson. Kirk teaches in a way that's enjoyable and gives you a game plan on how to practice on your own. We can't wait to work with Kirk again!"

"Had a great first lesson with Kirk after a 10-year hiatus from the sport. He gave quick and helpful feedback and has a great understanding of mechanics. Looking forward to getting my game back over the next few sessions with him."

"Kirk is great! Has taught me a lot already,"

"Our first lesson was amazing! Kirk was so patient especially since my husband and I have never played tennis before. We look forward to working with him in the weeks to come!"

"Kirk was very encouraging and patient . I had fun and look forward to my next class."

"He is great. Pushes me just the right amount and has really improved my game."

"Kirk quickly put my daughter at ease and has a good eye for mechanics. Would be comfortable recommending him to others."

"The lesson was for my daughter and we were very pleased. Kirk quickly established a good rapport and was encouraging."

"Kirk is a great coach. He breaks everything down into understandable prices. He quickly recognizes incorrect technique and clearly explains the corrections needed. He moves along well making great progress every lesson. He is well organized and very personable. He is encouraging without loosing sight of needed corrections. I highly recommend him."

Kings Grant Board Of Directors Member

5

"Coach Kirk has done a great job at getting my community interested in tennis! We have had tennis courts in our neighborhood for years, but very few people utilize them. Since Kirk has started teaching lessons, the courts are being used and it is also helping neighbors connect!"

"It had been about 10 years since I picked up my tennis racquet when I started lessons with Coach Kirk. He has helped me remember the basics and get back into the "swing" of things! Each lesson I learn something new in regards of strategy or technique but most of all I have fun!"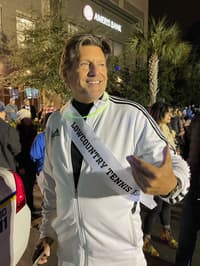 Kirk W.
As low as: $79/hr
Unlock VIP Pricing $74/hr