PlayYourCourt.com
436867
« back to coach list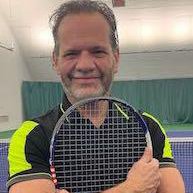 About Me
USTA 4.5 player that achieved USPTA certification at 53 years old
Have a rapid growth client base via referrals
I am a USPTA certified tennis pro, personal trainer and health coach
Adult beginners (through USTA 3.5/4.0) and Juniors 12-and-up
High energy - provide feedback WHILE hitting balls (little down time)
✅ I've been playing tennis for over 30 years and captain a 4.5 USTA Men's team ✅ I've taught/coached sports ranging from judo (had state and regional certifications) and taekwondo to soccer ✅ My ideal clients are juniors 12-and-up (I have several high school students) as well as adult beginners up through #USTA 3.5/4.0 ✅ I teach private, duo, team, and clinic formats ✅ I use video analysis as well as teaching aids like the Topspin Pro to rapidly improve your game ✅ Each lesson is high energy and covers a lot of ground in regard to groundstrokes, volleys, serves, and returns…progressing into tactics and strategy and building a game around your strengths
Languages Spoken
English
Where is your lesson?
Brian can recommend a location or come to any court inside the highlighted service area below.
George Washington High S…

655 S Monaco Pkwy Denver, CO 80224

Cherry Creek High School

9300 E Union Ave Greenwood Village, CO 80111

Heritage Hills

9201 E Heritage Hills Pkwy Lone Tree, CO 80124

Eaglecrest High School

5100 S Picadilly St Centennial, CO 80015

Arapaho Park

7800 S Adams St Centennial, CO 80122
Show More
Indoor Court Details
PGA Tour Superstore, singles court, $22/hr court fee
My Availability
| | Mo | Tu | We | Th | Fr | Sa | Su |
| --- | --- | --- | --- | --- | --- | --- | --- |
| Mornings (7a-12p) | | | | | | | |
| Afternoons (12p-5p) | | | | | | | |
| Evenings (5p-9p) | | | | | | | |
scroll to view more days »
The more you buy the more you save!
What Happens Next?
Book your lessons
Book your lessons online or give us a call at +1 301.575.6112 and we will help you select your perfect instructor.
Improve your game
Upon payment you will immediately receive your instructor's contact information. They will be in touch within 24 hours to schedule your first lesson at a time and location that's convenient for you.
Do you have any questions?
Where will the lessons take place?

Your coach will come to any court of your choice. Not sure of the closest court? No sweat, they will recommend a convenient location.

How do I know I'll love my coach?

We ask you questions and hand pick the perfect coach based on what you are looking for. We are so confident in our coach selection process that we offer a 100% satisfaction guarantee. If we can't find the perfect instructor for you then we will refund your unused lesson credits.

Can I start with just one lesson?

You sure can, although we offer a 100% money back guarantee so most students start with a lesson package to save money since there is no risk.

How do I get in contact with my instructor?

Once you have booked your lesson package, you will immediately receive your instructor's contact information. The quickest way to schedule your first lesson is to call or text your coach and they'll get back to you asap. If your coach doesn't hear from you they'll reach out within 24 hours.

I've never played before, do you work with beginners?

Absolutely! Our certified instructors regularly work with players of all ages and ability levels.

Can I bring a friend?

Absolutely! Each extra person is only an additional $10 per hour. Adding friends to your lesson is a great way to cut down on your lesson costs.
What my students are saying...
"Brian has been an excellent, methodical coach. Haven't played a lot of tennis before, I was looking to dive head first, and get a lot of fundamentals down as fast as I could, and that is exactly what I got. Brian does a great job of understanding what I was looking to get out of these sessions and has tailored my sessions accordingly. As someone who played badminton competitively, I wasn't sure how my skills would transfer to another racket sport. Brian highlighted the parts of my game that would benefit from my prior experience as well as things I needed to change. We've covered different types of serves, backhands, top spins, slices, serve & volley. It's been a great experience, and I recommend Brian highly!"

"Brian was referred to us by friends of ours and has done a great job coaching my 2 boys over this summer. My boys have thoroughly enjoyed his sessions and have become more confident in their game. They realize how Brian has helped improve their game and look forward to their lessons each week. I highly recommend him."

"Our 8 year old son has been taking lessons from Brian once a week for the last 8 weeks and he has learned quite a bit. Brian uses age appropriate coaching techniques that our son is able to easily pickup (serving a pie, drawing a C and so on). He has learned how to hit top spin forehand, top spin backhand, serving, slicing etc, but most of all, he is enjoying the game! Brian is a great coach and we highly recommend him!"

"My brothers and I did week-long immersive tennis lessons when we were visiting Denver. We started from basically zero and were hitting comfortably by the end. Brian did a great job walking us through fundamentals and different strokes with great energy! We learned a lot and enjoyed our lessons!"

"I took my first series of tennis lessons with Brian this September and I had a great time. Brian was thorough, methodical, and organized. I appreciated the thoughtfulness that he brought to each lesson as well as the preparation he had to help my siblings and I make the most of our time with him. More than that, he brought great spirit to each of our lessons and his love of the game was clear. It was infectious and I am keen to build off the basics that he showed me."

"Brian was, and is, an excellent instructor, teacher, and coach. I am extremely hard on myself, but I can say that I have REALLY improved. I have a lot of hang ups still, but I know what I should be working on. I really appreciated Brian's teaching/coaching methods and his patience. I am a bit clumsy and uncoordinated, which made for a few good laughs, and I am stubborn, so he has to repeat himself a few times before I "get" it and do it, so his patience came in handy! Brian is great and his passion for tennis and for teaching is demonstrated in his approach. Lastly, he is timely, which is another biggie in my book."

"Brian is extremely knowledgeable about tennis and technique in tennis, but more importantly, he is a great teacher. He cares about his students immensely and desires to see them improve. Dependable and organized. Highly recommend!"

"Coach Brian has been a great coach to my 11 year old son. He is teaching techniques and footwork to improve my son's game. Brian keeps the lessons fun and challenging at the same time. My son looks forward to his lesson each week and loves to go!"

"Fantastic. As a child and an adult that have never played Brian had a great flow to the lesson. Fast enough to learn multiple drills but not too fast where the skills were rushed."

"Brian does a great job with my 10-year old beginner. He tailors the lessons to his skill level and has helped him improve."

"I'm enjoying Brian's tennis lesson! He is great! I'm improving my forehand and still working on backhand."

"I HIGHLY RECOMMEND Brian... Brian is an AMAZING coach in every aspect. Excellent teaching techniques for kids to learn easily. My 12 year old son Brahan enjoying every moment in tennis court with Brian. He is providing many tools to have his classes that helps kids to learn faster and easy. My son is making so much progress.."

"Brian has done a great job working with my 12 and 14 year old kids who are brand new to tennis! He's patient with them, but keeps them motivated to improve. They look forward to lessons, and they're improving with each one. We've been really pleased!"

"This is the most fun I have had in a long time! Brian keyed in to just what I needed to improve my game and become more competitive. He is so personable and helped me reach my goal. He sent me prompt texts, worked with me to get extra lessons in and just made it fun. Very skilled and skilled at teaching also."

"I highly recommend Brian! My daughter is very happy to get trained under Brian as she was able to learn a lot from Brian in 1 month than from her previous tennis club in 1 yr. My daughter feels more confident about tennis and enjoys her session with Brian. We are very pleased with Brian's coaching."

"My two daughters took tennis lessons with Brian and this was their first time having private tennis lessons. It was amazing, he was very thorough in only 6 lessons. They learned a lot and look like they can play tennis now. I highly recommend Brian."

"Brian started teaching my 11 year old son private lessons a couple of weeks ago. I believe, that he has a way to connect with kids that really helps to keep them motivated. Brian focuses a lot on the right technique. You can tell that he truly enjoys teaching kids! We are so luck to have found him!"

"Brian is a Very experienced, and a patient instructor who is very passionate about the game of tennis."

"Brian is the perfect coach for my 12 year old son. He is very patient with him, makes lessons fun, and is teaching him great skills."

"My kids and I have been receiving tennis lessons from Brian over this summer and it has been a blast. Brian is very good at quickly assessing your skill level and customizing drills to suit your needs. My 16-year old (boy) and 14-year old (girl) are both new to tennis and with Brian's help they will now have a lifetime passion for a sport they never played before. We were so impressed with his teaching ability and passion for the game and have already recommended Brian to several of our friends and family. Coaches like Brian are so hard to come by and we will recommend him to anyone at all skill levels."

"My daughter has been taking tennis lessons from Brian for over 6 months. She loves the classes. It is very easy to schedule lessons using the website. Brian always reaches the court ahead of the scheduled class time and stays after the class explaining what they practiced today and how she did it He gives some practice tips for back home as we. Brian is also a health coach so I always have great conversations on food, exercise with him. I strongly recommend Brian. He cares for his student's progress overall health and learning."

"Brian is a fantastic coach! It has been amazing how he has improved my tennis in such a short span of time. His method of teaching is highly effective and unique. You can see how passionate and knowledgeable Brian is in tennis, and that has made lessons very enjoyable. He has the focus, knowledge and skills to motivate you to the next level. Coach Brian taught me different stroke fundamentals that made it easy to remember (hammer vs razor, windshield wiper, "carve the ball", etc). He covers a lot of the fundamentals in each lesson (mini-tennis, volleys, ground strokes, serve). Very pleased with off court organization and communication. Overall, very pleasant experience. Highly recommended."

"Amazing coach. I strongly recommend Brian for any level of coaching."

"Brian is a wonderful coach. He has helped my son to become a better player by working on his basics. My son loves the coaching sessions he has with Brian and he has become a more confident player. I would highly recommend him!"

"Brian is wonderful tennis instructor. He provides thoughtful instructions with clear demonstrations and constructive feedback. He is very friendly and genuinely loves helping others become better tennis players. Would recommend to anyone looking to improve their tennis game."

"Brian is an amazing coach! Detail oriented, positive, knowledgeable and fun to work with. Literally changed my entire game in just a few sessions."