PlayYourCourt.com
17702
« back to coach list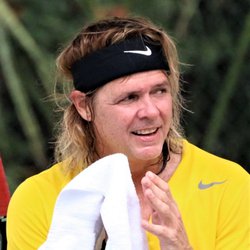 About Me
USPTA certified with 35+ years of teaching experience
Teaches all levels - great with high-performance players
Patient and high level teaching style with emphasis on great footwork
Have coached hundreds of players with various skill levels
4 year college tennis scholarship, national and state top rankings
I teach tennis because I truly enjoy helping people who want to become better players. It is my goal and mission to give you the tools and skills necessary for you to learn the game and play, both for fun and competitively.
Languages Spoken
English, Spanish
Where is your lesson?
Derek can recommend a location or come to any court inside the highlighted service area below.
Denso

1644 Mustang Drive Maryville, TN 37801

Blackberry Farm

1471 West Millers Cove Walland, TN 37886

Blackberry Farm

1471 West Millers Cove Road Wallan, TN 37886

Mynatt Park Tennis Courts

599 Reagan Drive TN, TN 37738

Sandy Springs Tennis Cou…

S. Cedar Street Maryville, TN 37803
Show More
Indoor Court Details
There is a possibility I can teach on an indoor court in Knoxville. Students would pay the court fees and any other fees charged by the facility.
My Availability
| | Mo | Tu | We | Th | Fr | Sa | Su |
| --- | --- | --- | --- | --- | --- | --- | --- |
| Mornings (7a-12p) | | | | | | | |
| Afternoons (12p-5p) | | | | | | | |
| Evenings (5p-9p) | | | | | | | |
scroll to view more days »
The more you buy the more you save!
What Happens Next?
Book your lessons
Book your lessons online or give us a call at +1 301.575.6112 and we will help you select your perfect instructor.
Improve your game
Upon payment you will immediately receive your instructor's contact information. They will be in touch within 24 hours to schedule your first lesson at a time and location that's convenient for you.
Do you have any questions?
Where will the lessons take place?

Your coach will come to any court of your choice. Not sure of the closest court? No sweat, they will recommend a convenient location.

How do I know I'll love my coach?

We ask you questions and hand pick the perfect coach based on what you are looking for. We are so confident in our coach selection process that we offer a 100% satisfaction guarantee. If we can't find the perfect instructor for you then we will refund your unused lesson credits.

Can I start with just one lesson?

You sure can, although we offer a 100% money back guarantee so most students start with a lesson package to save money since there is no risk.

How do I get in contact with my instructor?

Once you have booked your lesson package, you will immediately receive your instructor's contact information. The quickest way to schedule your first lesson is to call or text your coach and they'll get back to you asap. If your coach doesn't hear from you they'll reach out within 24 hours.

I've never played before, do you work with beginners?

Absolutely! Our certified instructors regularly work with players of all ages and ability levels.

Can I bring a friend?

Absolutely! Each extra person is only an additional $10 per hour. Adding friends to your lesson is a great way to cut down on your lesson costs.
What my students are saying...
"We had an opportunity to work with Derek Welsh and we were very grateful for it. Derek is extremely knowledgeable and his love for the game is unmatched. He worked on several different aspects of the game with my fifteen year old son, Jett. As I watch him in tournaments today I see Derek's influence and teachings when Jett performs the strategies Derek taught him. Derek is an exceptional player, teacher, and role model and highly recommended him to anyone trying to elevate their game."

"Derek is an outstanding coach for players at all levels. He was my son's first coach, and he helped him to develop good habits. He is very positive and a good communicator. He is a true professional and very knowledgeable of the game of tennis."

"Derek is a really great coach who has so much experience playing tennis. He helped me not only fine tune many of strokes I needed help on, but he also taught me new ways to strike the ball. He also changed a lot about the way I see tennis and how to read my opponent and find the best counter for their strategies."

"During our very first couple of lessons, Derek was able to help me make some not-so-obvious adjustments to my forehand and backhand that gave me a considerable boost of power and control, without requiring me to double my effort. I definitely believe in working smarter, not harder, and Derek showed me how to apply that to my swing in a very measurable way. He's very good about encouraging good performance without dwelling on mishits, something hard for perfectionists like me to do. Derek's also helped me add some new shots to my game and has given me practical knowledge about when and why to use them. He's also very willing to step back to the basics if I'm having a tough time will a particular skill. Lastly, when we practice point play, Derek challenges me to at least try to play at his level and helps me dissect each point, so I know how I can improve my strategies and recognition."

"Derek Welsh understands junior tennis and the skill sets necessary to succeed in the sport. He has geared a program that has been very beneficial to improving my son Will's tennis game. We appreciate his dedication and willingness to work with juniors."

"Derek's skills and knowledge helped many of my students with agility, balance, speed and decision-making during matches. On a personal note, my son leveled up his physical and mental game! Derek helps kids understand how to deal with pressure and make strategic decisions during a match. Derek will improve your individual or your team's game so don't hesitate to contact him or you will miss out! Our team finished the season in first place and we were the tournament champs in the Sevier County Junior League 2013."

"I have been the president of the Rob Cameron Tennis Academy and the Director of Tennis at Fox Den Country Club for 21 years and have had players compete and win at every level of the game. I started sending my students to Derek and have seen dramatic improvements in their agility, speed, balance and quickness."

"Derek Welsh is by far the best teacher that I have ever worked with. He pushed me and our entire team to the best that we could be, and we also had a great time working toward that goal. Derek was extremely active, working not just during our team practice, but also with us individually when we were able to, which showed his drive to help us succeed. Even after I graduated and left the team, he has kept in contact which I believe speaks highly of his character and dedication to the sport of tennis and the people who enjoy it. I have nothing but great things to say about Derek."

"Might be hard to believe, but Derek is helping this 75-year-old former competitive player improve his strokes and strategy and be the best he can be at this stage of a lifetime playing the game. I find him in Sevierville several times a year and I always come away feeling renewed. Derek is the best coach I've ever known. How I wish he could have taught me beginning when I was 12!"

"Our high school senior played Division lll varsity tennis in college. He began training with Derek in the fall of 2008. How we wish he had started there sooner! I will sing praises of Derek Welsh to all parents of athletes."

"The tennis Instruction, hitting, and energy were sensational. Derek is an inspiration on and off the court. Derek drove almost an hour one way to do a sunrise hit with me two consecutive days. He brought his son who is a good tennis player and the three of us had an amazing time. I got the feeling that while Derek is a professional he wasn't doing it for the money. It was pure and I felt like he did it because he has a passion for tennis and for people. It's nice to know I've got a hitting partner in Tennessee, as we frequent the Gatlinburg and Pigeon Forge area. Thank you Derek and I look forward to our next hit soon!"

"My daughters Vicki and Guinn are both high level tennis players that worked with Derek for quite some time. Derek's knowledge of the game of tennis coupled with his understanding of fitness and training techniques is what sets him apart from anyone else in the area."

"As a middle school tennis coach & 4.5 NTRP rated USTA player, I can wholeheartedly say that Derek Welsh gives the most beneficial lessons/clinics of any trainer/tennis pro with whom I have worked. Derek's highenergy, quick-paced lessons are designed not only to target specific shot mastery, but also to develop every element of the game, including agility, endurance, strategy, core strength, and mental toughness. Within the first lesson, he was able to diagnose and correct a problem with form that had caused inconsistencies with my backhand ground stroke for years. Whatever your tennis needs, from beginner to high-level competitor, Derek Welsh can take your game to the next level!"

"My son Nick is a nationally top ranked tennis player that has worked with Derek who is a true motivator with his hands on approach to training. I recommend Derek to any aspiring athlete wanting to compete at the next level."

"I believe that Derek Welsh is one of the best teachers that I have ever worked with. His knowledge and understanding of tennis and what it takes to develop players is unsurpassed. He is able to work with all skill levels and incorporates every aspect of the game in his training regiment. I have been very impressed with his ability to bring out the best in everyone he works with. Using agility, balance, strength and conditioning as part of his teaching routine he has enabled players to not only improve their skills but helped to increase their mental toughness. Derek has the unique ability to quickly recognize what players need to improve no matter what the skill level. Derek is the quintessential tennis pro and I have great appreciation for his knowledge and dedication to helping players learn the game."

"Derek was very professional and accommodating. He quickly assessed some areas we could focus on during our first lesson."