PlayYourCourt.com
37899
BIO
I have a service-oriented attitude and want to help you be the best player you can be! I focus on both the mental and physical part of developing all of my students. I have taught beginners all the way to professional players, and pride myself on tailoring each lesson to the ability and goals of each student.

Languages Spoken
English, Spanish
PTR certified with 20+ years of teaching experience
Teach all levels - great with beginners to advanced players
Very patient, passionate & encouraging teaching style
Coached over a dozen players to college scholarships
2008 River Oaks Clay-Court Champion
Location
Gerald can recommend a location or come to any court inside the highlighted service area below.
The Mark Brickel

1155 Brickell Bay Drive Miami, FL 33131

The palace Brickel

1541 Brickell Ave Miami, FL 33129

one paraiso residen

3131 NE 7th Ave, Miami, FL 33137 Miami, FL 33137

South Beach Condos

400 Alton Rd Miami, FL 33139

Margaret Pace

1745 North Bayshore dr Miami, FL 33132
Show More
Indoor Court Details
PGA Super Store; $23/hr
AVAILABILITY
| | MON | TUE | WED | THU | FRI | SAT | SUN |
| --- | --- | --- | --- | --- | --- | --- | --- |
| Mornings(7 A.M.- 12 P.M.) | | | | | | | |
| Afternoons(12 P.M.- 5 P.M.) | | | | | | | |
| Evenings (5 P.M.- 9 P.M.) | | | | | | | |
scroll to view more days »
Pricing
Save more with lessons package. Become a PYC member and save even more
Save on lessons, gear, and more as a VIP member.
FREQUENTLY ASKED QUESTIONS
Where will the lessons take place?

Your coach will come to any court of your choice. Not sure of the closest court? No sweat, they will recommend a convenient location.

How do I know I'll love my coach?

We ask you questions and hand pick the perfect coach based on what you are looking for. We are so confident in our coach selection process that we offer a 100% satisfaction guarantee. If we can't find the perfect instructor for you then we will refund your unused lesson credits.

Can I start with just one lesson?

You sure can, although we offer a 100% money back guarantee so most students start with a lesson package to save money since there is no risk.

How do I get in contact with my instructor?

Once you have booked your lesson package, you will immediately receive your instructor's contact information. The quickest way to schedule your first lesson is to call or text your coach and they'll get back to you asap. If your coach doesn't hear from you they'll reach out within 24 hours.

I've never played before, do you work with beginners?

Absolutely! Our certified instructors regularly work with players of all ages and ability levels.

Can I bring a friend?

Absolutely! Each extra person is only an additional $10 per hour. Adding friends to your lesson is a great way to cut down on your lesson costs.
What my students are saying...
"Great coach! Focused on building my daughter's foundation which I appreciated greatly. My daughter is very happy with his style too!"

"Very friendly, and gives great and easy to implement tips that improved my stroke"

"I just wanted to take the time to let you guys know that Coach Gerald is fantastic! He really is top notch and takes the time a beginner needs to learn the game."

"Gerald is very punctual and organized, and the drills he uses are very effective. He is also very easy to get along with, and the lessons move along very smoothly. I think he is an excellent instructor."

"Gerald was an amazing instructor for our group lesson. He knew exactly how to guide us as a group in teaching us the basics, while also getting to play the game. Overall great energy and professionalism. Looking forward to our next lesson."

"Gerald is an amazing coach! His teaching methods, understanding of the game and overall passion for teaching is second to none. I've taken two lessons with him so far and I've already seen a massive improvement in my overall game! Super recommended for players of all ages!"

"Gerald is patient, knowledgeable, engaging and a lot of fun."

"Gerald has a great and fun personality. Definitely has a good understanding of the player's psyche which is important for their learning."

"The lesson with Gerald was excellent. I like his step-wise, small-increment approach to teaching the basic skills. It was perfect for me: I haven't played tennis in 50 years; and I've been playing squash for the last ten yr. So, not only did I have to relearn tennis, I had to mentally and physically begin un-learning squash. Looking forward to next Friday."

"We have really enjoyed our lessons with Gerald. He makes each lesson fun and engaging and we have seen consistent improvement."

"Gerald has done a great job with our son. Very encouraging and teaching the fundamentals!"

"He is a great coach, I can't wait to learn more"

"We've had 3 lessons so far, and 3 more to go. Gerald is professional and knowledgeable, and works very well with my 12 and 13 year old daughters. He was recommended by PlayYourCourt, and it's a good match. Thank you!"

"My kids were so excited about tennis after their first lesson with Gerald!"

"First of all, Gerald contacted me immediately after I paid PYC for lessons. I took my first lesson a couple hours after our initial phone call. After some footwork warm-ups, Gerald turned on the tunes, made sure I stayed relaxed and he gave me something to focus on with each drill. He has a calm demeanor which helped me stay calm and focus on the adjustments he provided. A couple times he offered analogies that helped me visualize a technique adjustment and that was helpful. He also made sure I stayed well hydrated during our lesson. Gerald is attentive, knowledgeable and cares about the improvements you want to make to your tennis game."

"Gerald is great! I haven't played in awhile so he has been a big help getting my swing back, fine tuning my mechanics and helping with my overall game. Very friendly, knowledgeable and personalizes each session to your needs/goals."

"He's a great teacher and has great patience with the lesson. Keeps you focused on just a couple things which is nice. Very helpful so far!"

"Gerald has given my kids two lessons so far, and we are very pleased! He is wonderful with kids, knowledgeable, and incorporates a great variety of drills. They are very excited for their next lesson."

"Gerald is a top professional. He not only explains to our son what he can do to improve his game but backs it up with drills and play. Gerald is always in communication with us and is always available for questions. We will definitely continue to have him coach our son."

"Fabulous Lesson He came very prepared with great equipment to work on topspin and Volly game. We were able to play a few games and work on strategy"

"Gerald has been nothing but a wonderful tennis teacher to me. I love working with him, and every time I go to tennis I am excited to play a sport I've learned to love and improve my self as an athlete all thanks to him. Gerald has taught me so much about tennis, from forehands, backhands, and volleys, to simply the mindset I should have when approaching how to play, I've learned multitudes of tips and techniques from Gerald to make me a better tennis player. Gerald possesses traits that coaches I've had in the past did not carry. He is patient, and never gets mad when I make a mistake, but rather tells me what I can do to correct it. He's also kind, and extremely knowledgeable. I think Gerald is a great coach, and anyone would be lucky to have him as their teacher."

"Gerald is a fantastic tennis coach. I could see improvement in my game right away! He is very knowledgeable, detail oriented, and communicates very well. I would highly recommend him for any age or skill level."

"Gerald has been a great tennis instructor for me. He is available for a lesson whenever I need him and his made last minute changes to accommodate me. I highly recommend him."

"Although we've only worked with Gerald a short time, I can see he does a good job being patient with my daughter and encouraging proper form. He's friendly and enthuastic while working with her and we look forward to seeing her progress in the coming weeks."

"Gerald is a fabulous coach who is able to meet me where I am both physically and emotionally. He has tremendous patience, is very personable, easy to talk with and provides lots of positive reinforcement. Gerald makes tennis and life fun!"

"My daughter just started taking interest in tennis and her first lessons were with Gerald. If you are considering lessons for your child, young adult or if you just want to polish up your game to get better, Gerald is your guy! He was great with my daughter. He is patient and calm but at the same time keeps you on your toes and isn't afraid to make you work!"

"Gerald is amazing! His ability to connect with my son on the very first coaching lesson was better than I could've ever expected. Gerald is extremely patient and has a very calm demeamor which makes working on skills less of a task and more fun. My son can't wait until his next session."

"Zoe had 2 lessons with Gerald so far and she's ecstatic! He's a patient instructor, going at her pace but still pushing her to do her best. We're very happy with Gerald!"

"Gerald is a fantastic coach and really fun to play with. He has already helped me improve my game significantly."

"Gerald did a great Job coaching Jules. We're excited for more lessons with him"

"My 2 kids thoroughly enjoy training with Gerald. He has a nice touch with them. I recommend Gerald!"

"Gerald was friendly and patient with us beginners. He started us out in our first lessons with drills that fit our experience. My son and I look forward to our followup lessons."

"He quickly assessed my needs and coached me appropriately. His positive encouragement made the entire lesson so pleasant, and I really had a great time with him."

"Gerald is THE BEST. He is coaching my 6 year old son and keeps him engaged and having fun even through the sweltering heat! He is knowledgeable, a great teacher, has infectious energy, and truly is great with kids! So talented on so many levels. He's a gem!!!"

"My son has progressed substantially after several lessons with Gerald!"

"Gerald is very friendly and he makes me feel at ease learning the techniques."

"Gerald is a great teacher. I am getting back into tennis after an injury and Gerald knows how to structure my lesson to get me back in the game. He can analyze your stokes and make minor adjustments for maximum results. The lessons are fun and I can already see improvement!"

"Gerald is a fantastic teacher who makes our lessons fun. He is very patient with our teenager, while giving her the guidance she needs in a way she understands (not an easy task). He also teaches my husband and me sometimes together and sometimes separate, and we both have seen tremendous improvement. He is professional and flexible. I would highly recommend him for all levels, group and individual."

"I am getting so much out of my lessons with Gerald. I will sign up for a new set soon. He knows exactly what he's doing and analyzes your shot very well, but he makes it fun while you're getting better. You can't go wrong taking lessons from Gerald. Highly recommended."

"He is a great, upbeat, and super knowledgeable guy. He makes lessons fun!"

"My son and I enjoy the lessons."

"The first word that comes to mind about Gerald is "mentorship". From Day 1, Gerald has motivated my kiddos and opened their mind that tennis requires motivation, discipline, and healthy sportsmanship. I look forward to their ongoing lessons and plan on signing them up for additional lessons."

"Coach Gerald is really nice and my lessons are a lot of fun."

"My nephew is very pleased with coach Gerald!! He is very patient and friendly. He knows how to teach with great techniques!"

"I enjoyed my lesson with Gerald. He's enthusiastic. He's super friendly. And a good coach giving good tips to improve."

"Very entertaining, kept the hitting session enjoyable despite the heat. Appreciated he "checked in" to make sure I was doing well in the heat. Thank you!"

"First lesson with Gerard, I thought it was great! He quickly figured out my level/ability and was able to give me some great instruction!"

"I can't believe how much better I got in an hour. Gerald really explained the concepts to me which helped me translate that to my stroke."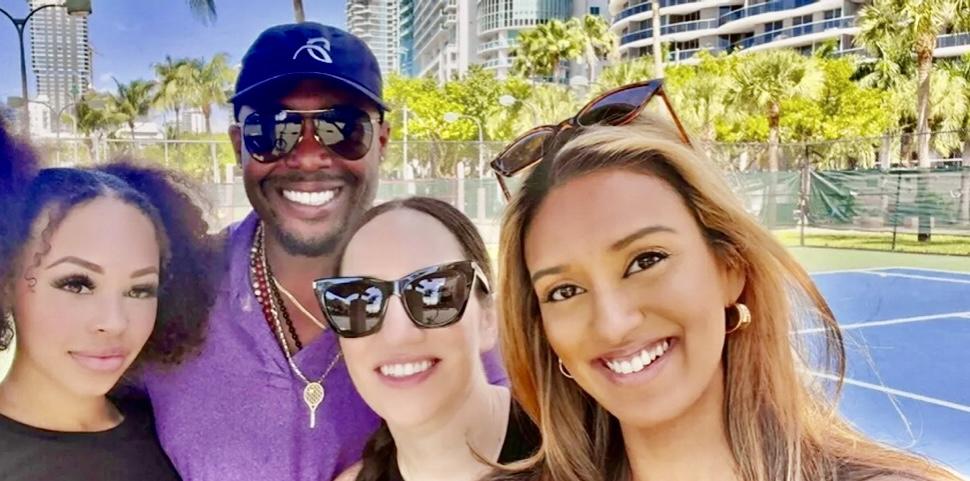 Gerald F.
As low as: $109/hr
Unlock VIP Pricing $99/hr