PlayYourCourt.com
6135
« back to coach list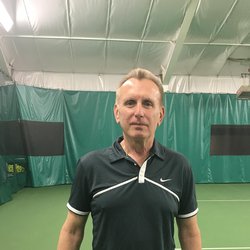 About Me
USPTA certified with 15 years of teaching experience
Teach all ages and skill levels - great with juniors and adults
Fun, patient and encouraging teaching style
Coached college tennis at Rugers-Newark
Coached numerous students to high USTA rankings
I'm very enthusiastic about tennis and bring my love of the game to each lesson. My teaching style is versatile; I tailor each lesson around the player's goals, whether they're a beginner or tournament player. I look forward to working with you!
Languages Spoken
English
Where is your lesson?
Roger can recommend a location or come to any court inside the highlighted service area below.
parsippany hills hs

20 rita dr morris plains, NJ 07865

hollywood ave

226 hollywood ave fairfield, NJ 07453

rachel meadow

pine brook pine brook, NJ 08767

Parsippany

Rita dr Parsippany, NJ 09785

Condo

Meadow lane Pine brook, NJ 07654
Show More
Indoor Court Details
I work at Tiger Tennis in West Caldwell and Fairfield. I also work at Brooklake CC in Florham Pk as well as Knoll CC in Boonton N.J. In Berger County at Haworth CC and Fairlawn Racket Club
My Availability
| | Mo | Tu | We | Th | Fr | Sa | Su |
| --- | --- | --- | --- | --- | --- | --- | --- |
| Mornings (7a-12p) | | | | | | | |
| Afternoons (12p-5p) | | | | | | | |
| Evenings (5p-9p) | | | | | | | |
scroll to view more days »
The more you buy the more you save!
What Happens Next?
Book your lessons
Book your lessons online or give us a call at +1 301.575.6112 and we will help you select your perfect instructor.
Improve your game
Upon payment you will immediately receive your instructor's contact information. They will be in touch within 24 hours to schedule your first lesson at a time and location that's convenient for you.
Do you have any questions?
Where will the lessons take place?

Your coach will come to any court of your choice. Not sure of the closest court? No sweat, they will recommend a convenient location.

How do I know I'll love my coach?

We ask you questions and hand pick the perfect coach based on what you are looking for. We are so confident in our coach selection process that we offer a 100% satisfaction guarantee. If we can't find the perfect instructor for you then we will refund your unused lesson credits.

Can I start with just one lesson?

You sure can, although we offer a 100% money back guarantee so most students start with a lesson package to save money since there is no risk.

How do I get in contact with my instructor?

Once you have booked your lesson package, you will immediately receive your instructor's contact information. The quickest way to schedule your first lesson is to call or text your coach and they'll get back to you asap. If your coach doesn't hear from you they'll reach out within 24 hours.

I've never played before, do you work with beginners?

Absolutely! Our certified instructors regularly work with players of all ages and ability levels.

Can I bring a friend?

Absolutely! Each extra person is only an additional $10 per hour. Adding friends to your lesson is a great way to cut down on your lesson costs.
What my students are saying...
"Roger S is a great teacher. He immediately understood what I needed to change as a result of old habits learned decades ago when I first started playing. The lessons were very straightforward and practical. Unfortunately, I have had to take a break the past 2 months to recover from a back injury, unrelated to playing tennis. Look forward to getting back on the court soon."

"Very patient and knowledgeable"

"I learnt from Robert 2 years ago. Had a pleasant experience"

"Prompt. Professional. knowledgeable. Hope my son improves his game in the next few sessions."

"My son had a great time."

"Great. Learned some fundamentals."

"Roger is a perfect fit! He knows his stuff and made it fun too. Looking forward to many more lessons with him."

"He is a great instructor"

"Excellent first meeting. My son enjoyed himself and feels he learnt a lot already!"

"Roger is a joy to be around and really dialed in when it comes to the funadamemtals of the game. His first lesson with my daughter resulted in drastic improvement quickly."

"Coach knows exactly when to pull out tricks to help you understand a nuance better. He's patient and sincere."

"Coach knows exactly when to pull out tricks to help you understand a nuance better. He's patient and sincere."

"We had first lesson yesterday, coach Roger is a perfect match for me and Audry."

"Roger was great! He contacted me prior to the lesson. He was on time and clearly a seasoned coach."

"He is very knowledgeable on the sport and very good when working with my daughter. She had a lot of fun and can't wait for the next lesson."

"My daughter really enjoyed it and said she is looking forward to the next one :)"

"Roger was articulate and focused on correcting basics which would set the foundation of our game for enhanced and play later on."

"Excellent for beginners. First lesson is amazing"

"It was fun and I learned a few good tips."

"Great! My son felt he got a lot out of his very first lesson with Roger."

"Roger was very informative and easy to work with. We look forward to working with him again."

"Roger is very patience and works well with beginners. He is highly knowledgeable and definitely knows his tenniss I highly recommend him to any tennis novice."

"From the first phone call he was very organized and friendly very knowledgeable and seems to have a lot of experience he can share"

"I enjoyed very much my first lesson with Roger. He is very professional and good at teaching."

"In a word, excellent! Roger was able to identify ways for me to improve my tennis skills in an easy-to-understand manner."

"Roger's lesson is productive and motivating. Learned more in one lesson than years' worth with other pros."

"We got right to it -- he is excellent with identifying, explaining and correcting technique mistakes."

"Roger was responsible and dedicated to teach my son."

"Roger is very knowledgeable and helpful!"

"Roger is a very engaging fellow with deep tennis knowledge with the ability to accurately judge strengths and weaknesses of someone's game."

"Excellent lesson. Learned a ton even in lesson 1. "

"Roger has great coaching skills and very interactive and engages the player very well. My son does had a good time in his very first one hour and he's looking forward to get more exposures in the upcoming weeks."

"It was a fun and productive lesson experience. "

"Efficient. He is a very good tennis coach with a lot of expertise in tennis."

"Great teacher. Excellent tips on first day..."

"Great lesson! Awesome coach!"

"Fantastic session! Roger was able to quickly assess my performance on the court and to focus on areas to improve on. Found the session extremely valuable and fun at the same time. He is a great coach!!!!"

"He was very informative and provided guidance on my Technique. I was able to improve my game having just 6 lessons with him."

"Roger was great. My game improved dramatically after just 1 lesson. As recreation players with some skill, he understood exactly what we needed to work on. He had fantastic tips that allowed for rapid progress. Looking forward to next time. "

"Only the best lesson of my life"

" Great guy! Very social and informative! He didn't waste time with correcting my errors, and managed to demo, ball pitch, and offer advice during practice. I enjoyed this experience and will be back for more!"

"Timely, patient, and friendly. Strong technical-foundation, versatile teaching methods. Very knowledgeable about evolution of tennis game, match strategy, and quickly adapts to skill level of student. As a recreational player with a late start to tennis and no previous formal training I was looking to improve my game to a 3.0-3.5 level to be able to play competitively in local tournament. Roger's ability to identify and deconstruct technique helped me rebuild my strokes from the ground up. He was able to adapt and adjust the methods when something didn't work. Would highly recommend him to anyone from beginner to intermediate to advanced."

"Roger is a great coach. He teaches best practices and is patient and encouraging. Highly recommend. "

"So far so good. Roger addressed my issues, forehand in particular. He explained and showed me the mechanics of the swing , and I immediately saw some improvement in my forehand - now it's just a matter of imprinting it on my memory whenever I execute it. I look forward to my next lessons with Roger. Roger is an amiable tennis instructor .And he was on time for our appointment ! "

"Roger was a great instructor - very patient, very personable. He gave me many great tips to improve my tennis. I high recommend him."

"Great instructor. Very knowledgable and has helped me a lot in just two lessons. Look forward to my next lessons with roger. Highly recommended. "

"I was happy with my lesson."

"Roger is GREAT! It was my girlfriend and my first time playing tennis and Roger made it fun and simple to begin...now we're hooked!"