PlayYourCourt.com
30199
« back to coach list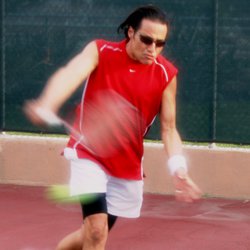 About Me
Former USPTA Certified with Over 30 Years Coaching Experience
Development of dozens of stylish, versatile players around the world..
Encouraging style, Patient and Easy-going
5.5 Level, Science-based methodology, Individualized training plans
Easy-going, fun, but always focused on proper technique and form
From the get-go, you'll find that I'm extremely passionate about this wonderful sport and that I want YOU to become equally passionate about it! I use OnForm, an advanced video coaching app to assess stroke mechanics. Aside from helping me closely examine technical details, it greatly helps students improve because they can actually see both the "good" the "bad" and the "ugly" in their strokes. I'm able to produce slow motion, repeat motions, and I can make side by side comparisons. These videos may be viewed on-court and/or sent directly to a student's text message or email for unlimited viewing. My first order of business is always to fix/alter/repair any strokes that are flawed or faulty. Incorrect muscle memory is often the culprit here and I immediately incorporate biomechanical drills to help make the required corrections. NOTE: I will NOT feed balls to an incorrect/flawed stroke to further ingrain it into muscle memory forever!
Languages Spoken
English, Dutch
Where is your lesson?
Michael can recommend a location or come to any court inside the highlighted service area below.
Tennis Courts at The Pre…

15871 Main St Chino, CA 91710

JNTC - The Jackson Niels…

4306 Heather Circle Chino, CA 91710
My Availability
| | Mo | Tu | We | Th | Fr | Sa | Su |
| --- | --- | --- | --- | --- | --- | --- | --- |
| Mornings (7a-12p) | | | | | | | |
| Afternoons (12p-5p) | | | | | | | |
| Evenings (5p-9p) | | | | | | | |
scroll to view more days »
The more you buy the more you save!
What Happens Next?
Book your lessons
Book your lessons online or give us a call at +1 301.575.6112 and we will help you select your perfect instructor.
Improve your game
Upon payment you will immediately receive your instructor's contact information. They will be in touch within 24 hours to schedule your first lesson at a time and location that's convenient for you.
Do you have any questions?
Where will the lessons take place?

Your coach will come to any court of your choice. Not sure of the closest court? No sweat, they will recommend a convenient location.

How do I know I'll love my coach?

We ask you questions and hand pick the perfect coach based on what you are looking for. We are so confident in our coach selection process that we offer a 100% satisfaction guarantee. If we can't find the perfect instructor for you then we will refund your unused lesson credits.

Can I start with just one lesson?

You sure can, although we offer a 100% money back guarantee so most students start with a lesson package to save money since there is no risk.

How do I get in contact with my instructor?

Once you have booked your lesson package, you will immediately receive your instructor's contact information. The quickest way to schedule your first lesson is to call or text your coach and they'll get back to you asap. If your coach doesn't hear from you they'll reach out within 24 hours.

I've never played before, do you work with beginners?

Absolutely! Our certified instructors regularly work with players of all ages and ability levels.

Can I bring a friend?

Absolutely! Each extra person is only an additional $10 per hour. Adding friends to your lesson is a great way to cut down on your lesson costs.
What my students are saying...
"Coach Michael is a very responsible coach! Really enjoy practicing with him He emphasizes on strategy and methodology of tennis and he has really improved devices such as ball pick machines and video analysis every session. You can see how you doing in the practice with a detailed analysis after each session and it really helps! Michael is very reliable on time and always has a positive attitude on coaching people. I recommend him a lot."

"I've had several coaches in different countries, and Michael is the best I've had so far. He is able to explain the 'Why' behind Tennis and make it feel more intuitive and natural. He knows what to focus on, and makes the learning experience your journey instead of prescribing what to do. Also, he is fun and very knowledgeable, so a great coach to be around."

"Mike's practical approach to coaching and his insistence on form and fundamentals make him a great tennis sage."

"In lessons past, we always spent about 1/3 of the session picking up balls. No more! Michael uses a full size tennis ball mower and pickup is very quick. He also owns and often uses various learning tools and ball throwing machines so he can closely study my strokes and footwork during drills. Aside from this, he's the most dedicated coach I've had in over 20 years of playing…"

"Michael is very patient and humorous. Not only did I not lose my passion for tennis due to training during the semester, I became more and more fond of the sport. It is worth mentioning that in other tennis-related aspects, Michael is also very good at it. For example, Michael provided constructive opinions on my purchase of tennis rackets and tennis lines. At the same time, Michael pays attention to the warm-up exercise before the tennis start, as well as a series of precautions after the end, such as dietary conditioning, fatigue relief, injury recovery, and training after class. I believe that under the guidance of this mentor and helpful friend, the level of tennis can be rapidly improved."

"As a student of Michael in the spring of 2014, I would like to recommend this serious, responsible and passionate tennis coach to you. In the three months of training during the Spring Festival, I can feel that my forehand and backhand, serve, and net skills have been greatly improved. With more than 20 years of tennis teaching experience, Michael can teach you the most standard and scientific technical moves. Especially in correcting and adjusting many movement details, Michael is very knowledgeable. For example, Michael would use a video camera to record every technical action in detail. After class, Michael will analyze each video so that he can adjust the incorrect actions during the next class. At the same time, Michael's technology is very comprehensive, whether you are a SLR or double reverse player, online or bottom line player, Michael can provide you with the corresponding technical guidance."

"Michael is extremely gifted and gets right to the issues that matter. He totally transformed my volleys and overall net play which has also transformed the way I think on the tennis court. I'm no longer afraid to attack the net and end points there quickly…"

"I'd been playing for over a year and discovered I wasn't improving. I contacted Michael and in our very first session, he pointed out the reasons why in detailed slow motion videos of my shots - flaws in my technique. He explained in detail what needs to change and outlined a practice strategy that I could do on my own time. I'm now beating players who once beat me easily…"

"I'm a single mom and Michael is the perfect coach and male role model for my sons. He's physically fit, speaks intelligently and maintains a disciplined environment that gains respect. He's also easy-going and funny. It's easy to see why the boys want to impress him by excelling at the sport…"

"You will not find a more dedicated coach than Michael, period."

"Simply the best, most dedicated coach I've worked with and I've had a bunch. Michael has such passion about the game and seeing you improve is what gives him joy."

"I see Michael once a week, but he's there as my coach 24/7. He will text me videos of myself and things I need to work on, often accompanied by videos comparing me and my stroke to a top 10 pro. He is funny and explains things so I can easily understand what's going on…"

"It's as if he's determined to seeing you become a champion regardless of your talent or playing level. No matter who you are, Michael treats you like a superstar…"

"My son began lessons at age 8 and has been playing for 3 years. In our first session, Michael pointed out and video-recorded technical flaws in every single stroke. We are currently in the process of fixing several years of bad muscle memory and it's not easy. Do yourself a favor and get Michael from the start…"

"Aside from being a very patient teacher, Michael is also a technician and uses video to analyze every detail of your tennis. From the way you hold your racket in between points to the way you tie your shoes, Michael instills in you a "manner" about the tennis court…"

"I developed a very bad habit in one of my strokes before meeting Michael and we worked on it for a very long time. The day we finally fixed it for good, Michael videotaped it and said, "Now, I'll be able to sleep at night." I honestly believe him.""

"After only one session, my son's strokes became more powerful and precise. He had been playing for about 2 years and since meeting Michael, he has become much more serious about tennis. I can now see how a coaches affect their students…"

"If you're a non-tennis playing parent who wants to be actively involved, then Michael is the coach for you. He will thoroughly explain things, concepts, strokes, etc to so that you can understand what's going on. You can record this with your phone. This allows you to effectively monitor and assist your child during practice time. And yes, Michael assigns homework and expects progress every session…"

"Michael spends every minute wisely. You're always moving forward. However, when there is an issue with your stroke, he will spend the time necessary to make certain you fully understand it…"

"Michael's academic background with children shows in his ability to effectively communicate with them. He is firm and fun, but also and keeps an appropriate level of discipline with our 10 and 11 year olds. His advanced degree in psychology is evident in the way he teaches and presents various drills in a progressive and sequential way that makes sense…"

"I have no experience. I recommend him because I feel tennis is an interesting sport under his teaching."

"Michael's technical skills and work ethic make him a great tennis instructor, and his ability to inspire the same passion he has for tennis in others makes him a great ambassador for the sport. As a person, Michael is kind, dedicated, reliable, patient, and generally great to be around. That means he is punctual, never misses a lesson (I remember several occasions where he would skip lunch to accommodate my schedule, or finish the lesson even when his shoulder was not 100%), and takes his time to explain an idea or repeat a drill until the new concept is really internalized...Michael is an asset to the tennis community. I would not hesitate to recommend him to anyone looking for the perfect tennis instructor."

"Michael has provided me with a high level of instruction and my game has improved significantly. Michael is experienced, informed, engaging and has strong communication skills. Though I have had tennis instruction from many other teachers over the past five years, Michael is by far the best…"

"Michael is a natural born teacher and I've had a chance to witness this with his tennis clientele. His patience and dedication is outstanding. He always goes that extra mile for all of his students helping them to keep moving forward."

"Firstly and most importantly for me, Michael is extremely patient and kind. He is also very generous and passionate about the game of tennis and it shows. It's hard to find instructors who are capable of providing the type of honest service he provides. I trust him emphatically and highly encourage anybody out there who wants to learn the game or become a better player to call on Michael."

"I have been playing for over 20 years without formal instruction and would rate myself a 3.5. When I was having serious problems due to a chronic case of tennis elbow, I ran into Michael on the tennis court. Not expecting anything, he kindly spent 30 minutes with me, showing me what was causing my problem: improper technique. A few weeks later, I called him and began taking lessons. I no longer have arm problems and am now competing in 4.5 level tournaments."

"Michael has the expertise, patience and experience to be defined as an excellent coach. His commitment to teaching is evident by his sensitivity, attention and enthusiasm to his players."

"Michael's experience and proficiency in tennis shines and are definitively exemplified in his coaching; though my time with him was somewhat limited, training with him had been a pleasure that helped me both step-up my game and have a fun time while at it."

"My 8 year old son choose Michael by himself. They get along very well. Michael is very kind and patient with him and also gives me much advice as a tennis mom. Michael is truly an outstanding coach."

"My brother and I have played several years without formal instructions. In the class, Michael gave us practical advice in details on how we would be able to improve our forehand and backhand, with all things conveyed in an easily understood way. Most importantly, we were encouraged and challenged to perform our every shot perfectly while having great fun in one hour!"

"Michael is methodical and thorough in his approach to teaching the game. He placed great emphasis on specifics of my form for both forehand and backhand in our first lesson. As also made sure I was able to hit as many balls as possible during the lesson. I would highly recommend him."

"Great first session! I learned a lot from Michael. In particular some of the technical details of my forehand, backhand, volley and serve. Look forward to the next session."

"Michael is very experienced, knowledgeable and most importantly, very patient. He makes the lessons fun from start to finish and genuinely cares about helping you to achieve your highest level. It's as if he's driven and motivated to see you succeed. I highly recommend his instruction to anyone beginner to advanced."

"I have been playing for over 20 years without formal instruction and would rate myself a 3.5. When I was having serious problems due to a chronic case of tennis elbow, I ran into Michael on the tennis court. Not expecting anything, he kindly spent 30 minutes with me, showing me what was causing my problem: improper technique. A few weeks later, I called him and began taking lessons. I no longer have arm problems and am now competing in 4.5 level tournaments."

"I'm so happy to have Michael share his coaching expertise here in the San Gabriel Valley. I used to drive out to the west side to find a decent instructor and now I have the best right in my own back yard. Speaking of backyard, I almost forgot to mention the beautiful backyard settings you'll be playing in."

"Because of Michael, tennis has become my passion. I am so thankful that I can maintain my weight, and get exercise all while having fun at the same time. I was always fond of the sport, but lacked the skills to really have a good time playing it. As a beginner, Michael welcomed me with whole-hearted enthusiasm. With his guidance my game has improved tremendously. Now I'm eager and excited to play several times a week and I'm truly enjoying a sport I'll be able to play for the rest of my life."

"Michael's believes that working out should be fun and it shows. Every time I get off the court I feel I have really worked and improved in some area of my game. Most importantly, I realize I had a great time doing it!!!"

"Michael is passionate about tennis and it shows. It's hard to find instructors who are capable of providing the type of honest service he provides. I trust him emphatically and highly encourage anybody out there who wants to learn the game or become a better player to call on Michael!!"

"Michael is the one! I had played as a teenager with friends, but never had any official training in tennis. Although I hadn't picked up a racquet in nearly 20 years, I decided it was time to get back to the game I enjoyed very much. On the first day, I learned things that immediately improved my game dramatically. I have continued on this productive path and am now competing at the 4.5 level."

"It's difficult for me to describe in words how much Michael has a true passion and is genuinely sincere about helping you. He is gifted in conveying things in a way that's easy to understand. He is also extremely patient and skilled in the art of teaching."

"Michael has the uncanny ability to tailor his communication style to each individual's needs. Further, he tailors his instruction to challenge you to perform to your personal best, while making it fun, and a great workout at the same time! He gives feedback in a positive way that encourages me to push harder to become better. I'd recommend Michael for any level of player, beginner to advanced. Whether you're looking for social or recreational fun, or a coach that will develop your skills and make you a competitive player, Michael is the one. I have had many instructors, but Michael truly stands out as my favorite."