PlayYourCourt.com
330895
BIO
I stress on fitness and technique. When learning tennis, practice makes perfect -- it is all about fluidity and agility to produce shots effortlessly without injuring yourself or muscling around the court. About me : I have a BA in international relations, a master in linguistics -- and a PhD is my next goal .

Languages Spoken
English, French, Arabic
A Teaching Pro:Over 10 years of experience
Teach all ages and levels & know the game inside out
Uspta certified professional
6.0++ level player
Anything and everything about tennis.Poetry in motion. Very humble
Location
Veronique can recommend a location or come to any court inside the highlighted service area below.
Franklin Park

1432 San Antonio Ave Alameda, CA 94501

Bay Trees Park

Cull Canyon Rd Castro Valley, CA 94552

Heath Park

1192 143rd Ave San Leandro, CA 94578

Pacific Recreation Compl…

2601 Teagarden San Leandro, CA 94577
Show More
AVAILABILITY
| | MON | TUE | WED | THU | FRI | SAT | SUN |
| --- | --- | --- | --- | --- | --- | --- | --- |
| Mornings(7 A.M.- 12 P.M.) | | | | | | | |
| Afternoons(12 P.M.- 5 P.M.) | | | | | | | |
| Evenings (5 P.M.- 9 P.M.) | | | | | | | |
scroll to view more days »
Pricing
Save more with lessons package. Become a PYC member and save even more
Save on lessons, gear, and more as a VIP member.
FREQUENTLY ASKED QUESTIONS
Where will the lessons take place?

Your coach will come to any court of your choice. Not sure of the closest court? No sweat, they will recommend a convenient location.

How do I know I'll love my coach?

We ask you questions and hand pick the perfect coach based on what you are looking for. We are so confident in our coach selection process that we offer a 100% satisfaction guarantee. If we can't find the perfect instructor for you then we will refund your unused lesson credits.

Can I start with just one lesson?

You sure can, although we offer a 100% money back guarantee so most students start with a lesson package to save money since there is no risk.

How do I get in contact with my instructor?

Once you have booked your lesson package, you will immediately receive your instructor's contact information. The quickest way to schedule your first lesson is to call or text your coach and they'll get back to you asap. If your coach doesn't hear from you they'll reach out within 24 hours.

I've never played before, do you work with beginners?

Absolutely! Our certified instructors regularly work with players of all ages and ability levels.

Can I bring a friend?

Absolutely! Each extra person is only an additional $10 per hour. Adding friends to your lesson is a great way to cut down on your lesson costs.
What my students are saying...
"Veronique has been wonderful to work with. She is precise, clear, and encouraging. My daughter is an absolute beginner and Veronique has helped to create a solid foundation in terms of technique and body mechanics. We will definitely come back for more lessons!"

"Veronique is attentive, patient, and helpful. My kids enjoy every lesson and are getting better!"

"Me and my wife literally started playing tennis's first session with Veronique and got 6 hours of training from her to get jump-started. She helped us buy a great quality racquet and balls; taught us various grips and when to use which grip; helped us practice forehand, backhand, serve, volley and more. We learned the basics and have started self-practicing now. We will take more lessons from her to get to the next level once we do few months of self-practice because she is the best!! Veronique is humble, knows how to train well, very professional and the best there is!! Thanks Veronique!"

"Veronique is a wonderful instructor!"

"Veronique is so dedicated to the sport, great with technique and gentle with the kids. Our family has been taking lessons from her and are very much enjoying them - we are all getting so much better than what we started 3 classes ago!!"

"Great class! It was quite intense and packed with lots of advice that I still need to process and internalize. Overall, an amazing experience and great opportunity to play and enjoy tennis."

"Veronique was very professional and skilled in talking me through the proper way to hold my racquet as well as guiding my hand through to the completion of the swing. She also gave me info re obtaining a a racquet that would be a better fit for my hand. Her patience also went a long way helping me to focus on the lesson."

"I played tennis but became quite rusty since I've not played it for years. I took Veronique's class in the hope to improve my tennis skills. Classes were very effective for me and Veronique had helped me improve my tennis in many ways. He is very patient and made improvements suggestions on my existing style. Along the way, he had been encouraging to me and I saw noticeable improvements from the classes!"

"Veronique gave me what I needed. I had a specific area I wanted to work on, and we focused on that. Veronique did not "over-coach" - identified a couple of issues with my stroke, and we then spent the lesson doing rallies/drills to fix that. It was very effective, I now feel much happier and clearer about my technique"

"Overall I had a good experience with Veronique. Had 4X1.5 hour lessons - I specifically wanted to work on my topspin backhand. Veronique was quick to identify the technical issue, and set up excellent drills to first fix and then to incorporate this into general play. And Veronique's own level of play more than good enough to give me a really good workout! Setting up lessons etc. was trouble free. I can recommend Veronique, I think especially for intermediate to advanced players."

"Veronique is professional and thorough. She has been an awesome tennis teacher to my 10-year-old daughter who needs a lot of encouragement when it comes to sports. Would highly recommend Veroniqe!!"

"I just had my second lesson with Veronique and besides learning so much in just my first two sessions I am having so much fun! Veronique is so skilled and knowledgeable about the game. The smallest technical adjustments have helped me immensely. I would highly recommend Veronique to beginners or advanced players looking to take their game to the next level. I'm so happy that I signed up for lessons :)"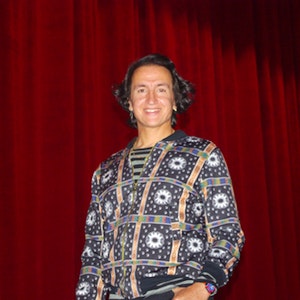 Veronique
As low as: $129/hr
Unlock VIP Pricing $119/hr