San Diego is a tennis paradise! Located along California's expansive coast, the city has numerous world-class public courts, many which overlook the ocean and give players a panoramic view. Many San Diego tennis facilities are open to members of the public, with family friendly amenities. If you are looking for the best place for tennis lessons in San Diego, here is a great list for you to choose from. 
Here are the Top 5 Tennis Courts in San Diego:
Murray Ridge Neighborhood Park

The Murray Ridge community park is located along 2559 Escondido Ave. San Diego and overlooks the 805 freeway, it's a quiet and peaceful park surrounded by residential homes that give you a sense a security which you won't find in any other place. The facility contains 1 well-kept tennis court that's free to play at, plus the court is very clean and surrounded by 2 water fountains where you can take some water for refreshment during your breaks when training.

Miramar College Tennis Courts

These magnificent tennis courts are on Black Mountain Road in San Diego. There are a total of 8 courts available for use. Though the courts are free to all members of the public, they are well-maintained and very clean to an extent that the tennis balls could very well maintain their original colors even after continuous use! There are lights which are automatically switched on at night to give you a better playing experience.

North Park Community Center

The North Park Community Center is found along Howard Ave & Idaho St. San Diego, and is an ideal place for taking tennis lessons. It consists of 3 tennis hardcourts that were recently renovated and are now in top-shape for outdoor tennis lessons. Likewise, the center has several benches where you can put your training gear or rest during your sessions. You'll also find sufficient cop cars patrolling the neighborhood to provide security, including street parking if you are visiting the park by car.

Nobel Recreation Center

This beautiful sports facility is found on Judicial Drive in San Diego. It is well-maintained with lots of room for running and strolling around. The park also contains several tennis courts for training, with a pro shop nearby where you can buy your supplies before training. Similarly, it has clean restrooms for both men and women where you can go to refresh at any time. In addition, Nobel Recreation Center is family-friendly and contains a gated playground for children, with plenty of green grass where they can run around and unwind.

Pacific Beach Recreation Center

The spectacular Pacific Beach Recreation Center is located at 1405 Diamond St. San Diego, CA. It consists of 2 tennis courts that are nicely maintained and never crowded, there's also a paved surface onsite plus a fountain where you can get a quick drink when thirsty. Typically, lights are switched on at dusk so that you can train at night with convenience.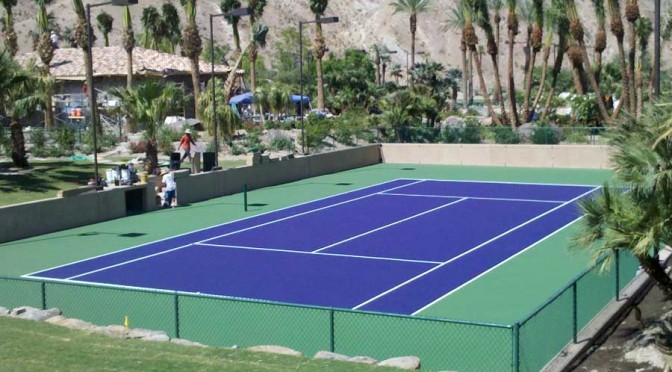 Ready to play Tennis in San Diego? You'll find quality and affordable tennis lessons from our pros at Play Your Court. Whether you want private or shared lessons with your kids or others, Play Your Court has a variety of training packages that you can choose from depending on your needs.  Our qualified tennis pros are a few clicks away!