You have probably heard of the young, powerful American star, Madison Keys, but here are some fun facts that you may not know!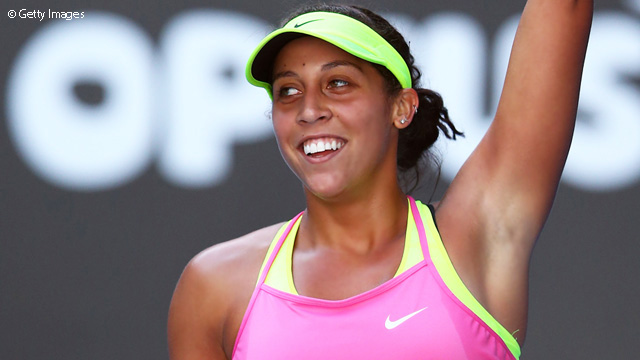 1. She won her WTA debut match…
…at 14 years old! She knocked off the 81st ranked player in the world, and became the 7th youngest winner of a WTA level match in the history of the game. Wow!
2. She (kind of) beat Serena when she was 14 years old!
She beat Serena 5-1 in a WTT match in 2009. Serena remembered the match saying, "I think she destroyed me. I just remember her hitting forehand winners, she was hitting so hard. She was so good at that age. It's good to see her still doing well."
3. She ADORES her fans
"I have been in those seats and I know what it's like to be out there watching, be super excited, stay after a match and want an autograph and things like that. So for me, I want to be one of those people that can sign as many autographs as I can, take as many pictures as I can, because they're part of the reason why I'm here. They're the people that stay out there late and they watch my matches and cheer me on. Me taking five minutes out of my day to try to get to everyone, do as much as I can, it's not that hard for me."
4. She wants to be a chef after she retires from tennis
She will certainly have the bank account to take as many cooking classes as she wants!
5. She was inspired to play by Venus Williams
Pretty good role model, eh? Her game is very similar to Venus' with booming groundstrokes. Neither player cares much for long points, which makes for some very entertaining tennis.