The best part about living in the South is that you can play tennis all year round! It is no wonder the South is such a hotbed for tennis. From Miami to Charlotte and everywhere in between, here are the Best Cities for Tennis South Edition.
Charlotte, NC
Charlotte is best known for being one of the financial centers of the United States, but it also boasts one of the fastest growing tennis populations in the country! USTA membership has grown by over 100% in the past decade and the city is home to nearly 100 public tennis facilities. If you are looking for a match, league, or event, look no further than the Charlotte Tennis Association, one of the best community tennis associations you'll find anywhere in the nation!
Atlanta, GA
There is SO much more to ATL than the world's busiest airport, especially for tennis lovers. With over 7,000 tennis courts and a climate that allows year round play outdoors, it's tennis population is thriving. While it is a great place to be a player, it's a great place to be a fan as well. Home to the BB&T Atlanta Open, part of the summer's US Open Series, it features some of the top players in the world at an incredibly fan-friendly facility.
Miami, FL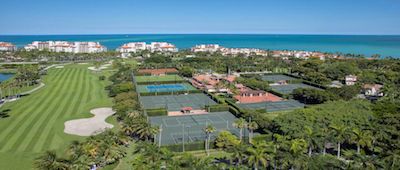 If you are into culture, then Miami is the city for you. If you are into tennis, Miami is the city for you. If you love BOTH, then you probably already live here! Miami's tennis scene is highlighted by the Masters 1000 Miami Open each year at Crandon Park in Key Biscayne that attracts every one of the worlds top players. However, you are never more than a stones throw from a wonderful tennis court, like at the famous Flamingo Park. Or, if you are into something a little more fancy, look no further than the Swanky Turnberry Isle or Fishers Island resorts. There's something for every tennis buff! Don't miss out on the Cuban sandwiches while you are down there, either!
Savannah, GA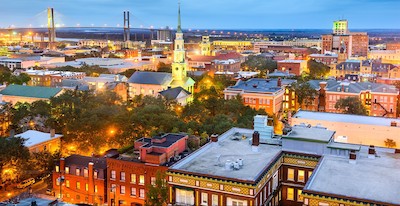 Savannah is a gorgeous city steeped in history, and is the gateway to the countless Islands in Georgia and South Carolina, like Hilton Head. It's beautiful climate and scenery make it a dream for tennis players. Perhaps no venue is more famous than the Landings Club which boasts the largest residential clay court facility in the nation: 33 courts! It is also host to the Savannah Challenger, a premier event on the ATP's Challenge Tour. Many of the top players in the world have come through there on their way to winning Grand Slams, making it an incredible place to see remarkable tennis talent!
Orlando, FL
It's not just Disney World and golf in Orlando! The greater Orlando area is home to nearly 80 tennis facilities. It's climate is warm year round, and is so perfect, in fact, that the USTA's National Campus can be found here. They are expanding their facilities to create a world-class training facility for the country's top talent. Next time you're in Orlando, be sure to hit the court for a good workout before you go take a selfie with Mickey Mouse!
Nashville, TN
Let's face it, "Music City U.S.A" is not likely change its name to "Tennis City U.S.A," but that does not mean it isn't a wonderful city to be a tennis player! Nashville is almost as much of a sports town as it is a music town, and that is evidenced by the Titans, the Predators, Vanderbilt University, and of course the very active tennis population! Home to Tennis Nashville, one of the nations foremost Community Tennis Associations, and a very active USTA section, it's never difficult to find a court or a match!
Raleigh, NC
Raleigh is a great place to play tennis in the dark. What a weird thing to lead with… But seriously! The city of Raleigh operates 25 tennis facilities with 110 courts, and 108 of them have lights! Of course, there are some gorgeous facilities that you will want to check out in the daylight as well, like the Millbrook Exchange Park Tennis Courts, with 23 awesome hard courts, with lights, obviously 🙂
Charleston, SC
If it is good enough for the best female tennis players in the world, it's good enough for you! Charleston is home to the Volvo Car Open on the WTA Tour, held at the Family Circle tennis center each April has one of the best fields you will find anywhere. While you are in the area, don't miss out on the Lowcountry cooking, and if you are looking for jaw-dropping beaches, sunsets and beauty, take the short trip to Kiawah Island, you won't regret it!
Jacksonville, FL
Let's face it, nobody goes to Jacksonville for the Jaguars… However, Jacksonville's relentless sun and humidity make it as good a place as any to get a great workout while playing our favorite sport! The Jacksonville Beach Tennis Center at Huguenot Park is a favorite of the locals. Something about playing tennis by Palm Trees next to the beach just makes it an elevated experience.
Greenville, SC
In recent years, Greenville has been named as one of the fastest growing cities, best cities for young professionals, and one of the strongest job markets in America. All these factors have lead to a booming tennis population! Headlined by the Gorgeous Kroc Center and Greenville Tennis Club, there is an active public and private tennis scene for every player to enjoy.