Are you having a hard time getting inspired to work out?
Let's face it, working out sucks.  That's why it's called WORKING out.
When I walk into the gym, I see treadmills, ellipticals, and a wall of machines. It's overwhelming, and unless you are incredibly self driven it's nearly impossible to stay motivated.  Apparently I'm not alone because group workouts like Crossfit, where you can torture yourself with a group of friends to ensure motivation, have become very popular.
As you may or may not know, many Crossfit workouts revolve around interval training or brief surges of high-intensity movement followed by short periods of recovery.  While there's no denying the workouts are miserable, Crossfit has become popular because interval training works and is one of the absolute best ways to exercise and get in shape.
All of that being said, not everyone is looking to engage in these extreme high-intensity Crossfit workouts that our armed forces use to prepare for life or death situations.
Enter tennis. It's a sport, it's a game, and it's fun.  And most importantly, it revolves around interval training that will help you lose weight and stay fit without being miserable.
Did you know an hour session on the tennis court is a better workout than almost anything you can do at the gym?
Why? Because head to toe, tennis is the ultimate full body workout.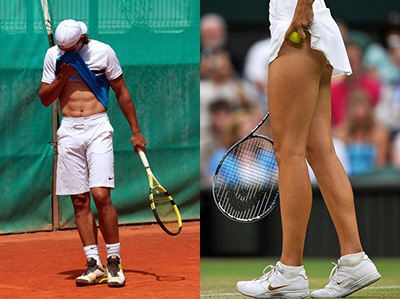 It's not a coincidence that Rafael Nadal has nice abs and Maria Sharapova has stunning legs. The movements required to play tennis, even at the beginner level, tone your legs, arms, and core for an ultimate full body workout. In just an hour on the tennis court you will burn 500+ calories and strengthen your major muscle groups all while having fun.
I've always been a proponent of using sports to stay in shape over the dreaded gym. Sports like basketball and soccer are good for your legs, and lifting makes you stronger, but tennis takes care of everything all at once.
Back when I was a full-time teaching pro I used to teach 45 hours a week and had zero time to go to the gym, but I was in the best shape of my life. I was essentially getting 45 hours of full body workouts per week. I found that my arms, legs, and especially my abs got in better shape with all the running, rotating, and swinging that tennis requires than with any miserable workout I could have tortured myself with at the gym.
Imagine how much time playing tennis will save you? No more splitting your workouts into cardio and strength training sessions. Tennis does it all at once.
Ready to have fun burning 500+ calories in an hour? It's time to hit the court. What's even more fun is improving your game! There is no better way to do that than with a certified teaching professional from PlayYourCourt. Our pros will come to the court of your choice at a time that fits your busy schedule.  Click here to find the perfect instructor in your area!