If you're looking for tennis lessons in California with top-rated coaches we can help!
The best coach is one that fits your needs as a player. Whether you're wanting to learn the game or you're needing to work up on specific techniques, coaches are not one-size-fits-all.
Which is why we work with so many of them in California. From San Francisco to San Diego, Sacramento to Fresno, our coaches are as varied in expertise, style, and personality as the people they work with. No matter what your style or goals, we'll help you find cheap tennis lessons with top-rated coaches in California that will perfectly fit your needs and budget.
Cheap Tennis Lessons in California From Coaches With Great Reviews
Surina D.
Surina coaches in the San Francisco area and is a former Professional Tennis Player. She was ranked 50 in the world! Surina uses video analysis to help high level players work through fine tuning their techniques.
Surina is the perfect choice if you're an intermediate to advanced player and want to step up your game. On our website can check out her full profile. You can also see other coaches in the area.
Tark D.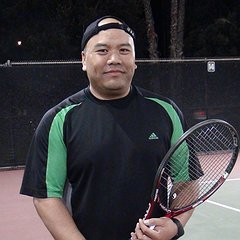 Tark coaches in LA and nearby areas. He is a PTR certified former private high school and middle school coach. Tark is patient, encouraging, and excels at teaching beginners and intermediates who are wanting to try out the sport while also getting fit. He lives by the motto that "when you're one the court, only the court exists."
If you need a break from the real world, want someone who can coach you through the basics, or are searching for an excellent hitting partner that will help you lose yourself in the game, Tark is perfect for you. On our website you can check out his full profile. You can also findcheap tennis lessins in California with other pros.
Alexander A.
Alexander is USPTA certified and teaches in Santa Barbara and the surrounding areas. After playing tennis at UCSB, then going on to coach players at the university, Alex is an expert on tennis in California.
If you're looking to get dialed into the local tennis scene, Alexander is a perfect fit. His high-energy style makes him an excellent choice for people wanting a great workout and some info on joining local leagues. On our website you can check out his full profile. You can also see cheap tennis lessons with other coaches in the area.
It's easy to book with the best coaches in California when you go through PlayYourCourt.
California Tennis lessons by location:
An assortment of tennis lesson packages to choose from guarantees you the best possible hourly rate on the best tennis coach in California.