About our Orlando tennis coaches
We work with the best tennis instructors in Orlando who have experience in all levels of play. Our coaches will teach you at a local court of your choice, and put together a training strategy that truly helps you.
What are you looking for?
About our Orlando Tennis Coaches
Content: We work with the best tennis instructors in Orlando who have experience in all levels of play. Our coaches will teach you at a local court of your choice, and put together a training strategy that truly helps you.
Orlando Tennis Teachers that are the perfect fit
If you have been looking for a tennis teacher who can work with you or your kids at your skill level, we've got them. Our tennis teachers are patient, kind, and take the time to teach the basics - or if you are an advanced player, teach you the tennis skills to take your game to the next level.
Tennis Instructors near Orlando for all levels
It can be difficult to find a teacher in Orlando that is either experienced enough to truly make your experienced player tennis play better, or who has the patience and drill strategies to bring your beginner tennis game to the next level. Our tennis instructors are matched based on fit, so there is never any doubt about your instruction.
How does PlayYourCourt work?
Choose your coach
Enter your zip code, answer a few questions, and choose from a tailored list of great instructors!
Book your lessons
Book your lessons online or give us a call at
301.575.6112
and we will help you book your perfect instructor.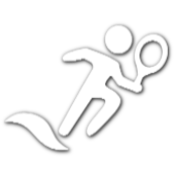 Improve your game
Your coach will be in touch within 24 hours to schedule your first lesson at a time and location that's convenient for you.
More about tennis lessons in Orlando, FL
Close-Up: The Tennis Scene in Orlando, FL
Universal Studios and Disney World are fantastic, and they are undoubtedly what Orlando is known for above all else. That being said, in order to keep your sanity, when visiting the popular attractions that Orlando has to offer, it is critical that you reserve at least a few hours a day for some mind-clearing physical activity! What better way to do that than to hit one of the thousands of tennis courts in the Orlando Area?!
From Maitland to Disney, all the way down to Kissimmee and everywhere in between, there are beautiful public tennis courts around every turn. It is no wonder tennis is so popular in Orlando as the weather, though humid in the summer, is perfect for tennis all year round. If you are looking to join a private tennis club, join a recreational league, test your skills in a tournament, work on your game with a pro, or simply want to hit the ball with a friend, Orlando's healthy tennis scene has everything you could possibly be looking for. In fact, the tennis culture in Orlando is so perfect that the USTA has decided to move their national headquarters there, and in doing so, will also open one of the most incredible tennis training facilities in the world, complete with incredible courts of varying surfaces, indoors and outdoors, hotels, and so much more.
Tennis Resources in Orlando, FL
The Best Tennis Equipment Stores in Orlando, FL
Tennis Plaza
Tennis Plaza is the leading tennis retailer in the State of Florida. The first location opened its doors in Miami in 1990. Now there are six locations in the state and none busier than the Orlando location. They offer every major brand of tennis racket, apparel, footwear and more. Their showroom is located in the center of Orlando's tourism area, International Drive, and is expansive. Their inventory is impressive and their prices are unbeatable. If you can't make it into the store, they offer a full online store as well!
E-Tennis Pro Shop
Located at the Winter Park Tennis Center, the E-Tennis Pro Shop is a stunning tennis retailer. They offer all the latest gear both in store and online. Their list of services is extensive as well. If you can't make it in to the store, they offer next-day local delivery as well, so there is no excuse to not be fully outfitted for your next match!
The Best Tennis Organizations in Orlando, FL
Central Florida Tennis Association
The CFTA is an organization made up of passionate tennis players who mission is, "To provide Central Florida with a modern tennis network where healthy competition and player camaraderie come together in the spirit of the game." They offer resources of all kinds to every type of tennis player. From leagues, tournaments and social events to player-matching services, they do it all!
T.O.M. Conference
The Tennis Owners and Managers Conference, presented by the TIA (the Tennis Industry Association) is one of the top tennis industry conferences of the year. It brings together leading experts in all areas of tennis to help improve industry practices. The best tennis minds are all gathered each year for one of the most comprehensive workshops in the industry.
The Best Tennis Facilities in Orlando, FL
USTA National Campus
The USTA National Campus is undoubtedly the finest tennis facility in the entire United States. The facility is the new headquarters for the USTA and just opened in 2016. The facility features a ridiculous 100 courts spread out across 64 acres. Every court is fully lit and 84 of the courts even feature live streaming so you can catch all the action from anywhere. They host national tournaments, camps, collegiate matches, and so much more. This is the lifeblood of tennis in Orlando, and really the country!
Lake Cane Tennis Center
The Lake Cane Tennis Center, home of MG Tennis, has long been one of the premier public tennis facilities in the greater Orlando area. It is home to over 35 adult team and over 30 USTA sanctioned tennis tournaments. They have a full-service pro shop and are open to the public 7 days a week. The best part? Court rental fees are incredibly affordable, ranging from only $4-$6 per hour!
The Best Junior Tennis Camps in Orlando, FL
Wilson/Roddick Tennis Camp at UCF
Run by brother of Andy Roddick and UCF head men's tennis coach John Roddick, this camp offers comprehensive training for elite junior players or players just beginning. The camp is overnight and featured six hours of training per day with individualized attention to each player.
Tennis Lessons In Orlando, FL
Orlando hardly needs to be sold as a tennis destination, so whether you call it home, or you are visiting for any number of reasons, there are few more perfect locations to work on your tennis game. PlayYourCourt has been very active in the greater Orlando area since its inception in 2009. PYC has instructors for all ages, and all abilities, who will work with you to custom tailor the ideal lesson plan for your game and your goals. They will come meet you at a court that is convenient for you, at a time that fits in your schedule. Get started today!