Private Tennis Lessons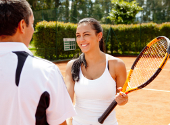 Have you ever taken a private tennis lesson where you were hitting great backhands or blasting hard serves, but were never able to recreate that success in a match?
Qualified teaching pros know that a private lesson should help you achieve two goals – learn or improve a skill, and then retain that skill. The best coaches set up their lessons to help you learn in such a way that it promotes long-term retention.
Finding the right pro through a PlayYourCourt.com search will help you find a partner who can help you reach your maximum potential.
Goals of Private Tennis Lessons
Private tennis lessons are the most effective way to learn new strokes and shots that work for your personal style of play. A group lesson provides helpful tips on general playing and hitting skills, but private tennis lessons allow a teaching professional to see how you perform during a match so he or she can improve your game based on your individual needs.
Private tennis lessons help you achieve two goals:
Learn a new skill for the first time
Improve a stroke or shot you're currently using
Of course it will take more than one private tennis lesson before you "own" a new shot and can use it over and over again in your matches, but working with a coach one-on-one will help you change your game for the long term.
Hiring the Right Coach for Private Tennis Lessons
When you book a private tennis lesson with a PlayYourCourt.com pro, don't be afraid to tell your coach what you want to achieve. If you're a beginner, a qualified coach will teach you how to rally first so you learn proper footwork and positioning. Learning how to rally first lets you practice with a friend in between your lessons and burn some extra calories. As you get better, the coach will then make technique changes to your strokes to help you learn how to place the ball, add spins and develop power.
Make sure you book a qualified tennis teacher for private tennis lessons. Booking a coach through PlayYourCourt.com ensures you'll work with a professional who has demonstrated a commitment to learning how to teach a wide variety of skill levels.
Search PlayYourCourt.com to find a tennis coach near you for private tennis lessons.