See what our 100,000+ students are saying...
Top-Rated Tennis Coaches in Minneapolis

State doubles runner-up, 3-year starter for college level club team
Several seasons solo coaching a team of beginner 6th-7th graders
5 years of youth/teen teaching and coaching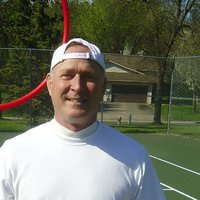 Captain, Coach & Finalist, years of playing USTA Team Tennis
Discovered THE SECRET to learning tennis & winning tennis
USPTA plus 25 years of coaching & tournament tennis
Here's what you can expect from a PlayYourCourt tennis coach in Minneapolis...
Our coaches come to any court of your choice for tennis lessons in Minneapolis

We work with your schedule to squeeze tennis lessons into your busy life
You'll get the best tennis coach in Minneapolis based on hundreds of 5-star reviews

We work with all ages and skill levels - kids tennis lessons, adult lessons, and beginner lessons
What makes our tennis lessons in Minneapolis better?
The Perfect Coach
We find you the best coach for your specific tennis goals.
Play When You Want
We work with your schedule to squeeze tennis into your busy life.
Courts Near You
Your lessons are just minutes away on a nearby court.
01
Choose Your Coach
Finding the right tennis coach is difficult, but we've already done the hard work for you. Tell us your goals and our coach-finder will search our 2,000+ coach database to find the perfect instructor for you.
Find Your Coach
02
Book Your Lessons
Our team is here to help you every step of the way. If you have any questions or want to purchase over the phone, call us at 301.575.6112 or buy online now if you're ready to get started.
Get Started
03
Improve Your Game
Talk to your coach to schedule your first lesson at a court and time that is convenient for you. You'll have fun and be amazed how quickly you will improve when you're working with the right tennis coach.
Find Your Coach
Looking to Play More Tennis?
The PlayYourCourt community is the easiest way to meet new players in the Minneapolis area.
Learn More
More about tennis lessons in Minneapolis, MN
Close-Up: The Tennis Scene In Minneapolis, MN
If you aren't familiar with Minneapolis, you just may think that it is a city with such brutal winters you couldn't imagine living there. What you may not know is that it is without-a-doubt one of the best sports towns in the country. Minneapolis sports the most active population in the nation and it's tennis population is thriving. The USTA's Northern section is the governing body for all things tennis in the area. Its mission is to grow the game in the area at all levels. The section puts on leagues, tournaments and clinics for adults and kids, as well as comprehensive adaptive programs for those with disabilities and special needs.
The Inner City Tennis program is one that stands above the rest in terms of the impact it has made on the city both in tennis and in giving back. Founded in 1952 by Minneapolis patriarch Lachlan Reed, the program was designed "with a goal of empowering inner city youth with the many opportunities afforded them through the lifelong sport of tennis."
The program took off in the '50s and has grown exponentially since then. It started with volunteer coaches teaching on city courts, and has since opened its own facility at the Reed Sweat Tennis Center with twelve courts, seven full-time coaches, administrative offices, and has inspired spin-off programs all across the nation. Thousands of children have come through the programs.
One of the programs inspired by InnerCity, the Fred Wells Tennis and Education Center, opened its doors in Minneapolis right down the street in St. Paul. The program features one of the city's premier tennis facilities with eight world-class courts, and offers programming for underprivileged youth and anyone looking to hone their game in the community.
The real pulse of the tennis community in Minneapolis can be found at the University of Minnesota's Baseline Tennis Center. It is the home to both the men's and women's Golden Gophers collegiate tennis programs and features 22 signature maroon and gold courts both inside out. The stadium seating features 500 seats, so whether you are playing a competitive match or just hitting for fun, you'll be inspired by the arena!
If you are looking for a more fun, casual tennis experience, there are two local Meetup pages with nearly 3,000 active members. There are weekly Meetups for players of every level, which are also a great outlet to meet new tennis friends!
Featured PlayYourCourt Coach Providing Tennis Lessons In Minneapolis, MN
Shu L. is PlayYourCourt's featured pro providing tennis lessons in the Minneapolis/St. Paul Area. He has been teaching for PlayYourCourt for years and has been adored by all of his students. He is certified and very active in the PTR and teaches with all the latest technology. Though he is a high level player very capable of working with any age or ability, his passion is working with kids and beginners. Shu will make sure you have as much fun as you possibly can on the court!