See what our 100,000+ students are saying...
Top-Rated Tennis Coaches in Cincinnati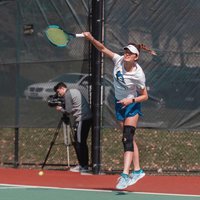 Play Division 1 tennis at Creighton
Coached players at summer camps
Taught kids for 4 years
Here's what you can expect from a PlayYourCourt tennis coach in Cincinnati...
Our coaches come to any court of your choice for tennis lessons in Cincinnati

We work with your schedule to squeeze tennis lessons into your busy life
You'll get the best tennis coach in Cincinnati based on hundreds of 5-star reviews

We work with all ages and skill levels - kids tennis lessons, adult lessons, and beginner lessons
What makes our tennis lessons in Cincinnati better?
The Perfect Coach
We find you the best coach for your specific tennis goals.
Play When You Want
We work with your schedule to squeeze tennis into your busy life.
Courts Near You
Your lessons are just minutes away on a nearby court.
01
Choose Your Coach
Finding the right tennis coach is difficult, but we've already done the hard work for you. Tell us your goals and our coach-finder will search our 2,000+ coach database to find the perfect instructor for you.
Find Your Coach
02
Book Your Lessons
Our team is here to help you every step of the way. If you have any questions or want to purchase over the phone, call us at 301.575.6112 or buy online now if you're ready to get started.
Get Started
03
Improve Your Game
Talk to your coach to schedule your first lesson at a court and time that is convenient for you. You'll have fun and be amazed how quickly you will improve when you're working with the right tennis coach.
Find Your Coach
What's New in Cincinnati Tennis
Looking to Play More Tennis?
The PlayYourCourt community is the easiest way to meet new players in the Cincinnati area.
Learn More
More about tennis lessons in Cincinnati, OH
Close-Up: The Tennis Scene In Cincinnati, OH
Cincinnati is just one of three cities in the United States that gets to host a Masters 1000 series ATP and WTA tour events, putting it in elite company with Miami and Indian Wells, California. The ability to host all of the best players in the world year after year has elevated Cincinnati as a tennis city and propelled it into one of the best tennis towns in the midwest. The Western and Southern Open is played each year in the middle of August and is typically the last stop for the top players before they descend upon NYC for the year's final Slam, the US Open.
The event is played at the Lindner Family Tennis Center, one of the best venues to watch tennis anywhere in the world. It is the only facility outside of the four Grand Slams to have four permanent tennis stadiums. Center court holds nearly 12,000 people, making it large enough for a phenomenal atmosphere, and small enough for it to be intimate, giving fans an up-close-and-personal view of the world's best players. The event has one of the largest purses in professional tennis outside of the Majors. The men's tournament pays out $5 million to its players, with the women receiving $2.8 million. Roger Federer has dominated the men's side of the tournament, winning the title all 7 times he has made the final. As of 2017, Serena Williams had won two of the last three years, so you can see there is some serious pedigree at the event.
Luckily for the everyday tennis players out there, Cincinatti is a wonderful place to play tennis, not just watch. The Cincinnati Recreation Commission is at the forefront of growing the game in the area. They own and operate 100 courts in the city across twenty-four separate facilities. Lunken Playfield is one of the premier destinations, and has even been ranked as the best public facility in the nation by the USTA. There are fifteen different tournaments held there each year for players of all ages and abilities.
The National Junior Tennis and Learning program is sponsored by the Western and Southern Open and is a fabulous way for all players to develop their games whether they are seasoned veterans, or kids just learning the game for the first time. For those interested in courts with a view, look no further than Sawyer Point Urban Tennis. Nestled in downtown Cincinnati, the facility has eight fully lit courts open to the public 7 days a week, so you don't have to leave the city to get your tennis fix!
Featured PlayYourCourt Coach Providing Tennis Lessons In Cincinnati, OH
Benton G. is PlayYourCourt's featured pro providing tennis lessons in Cincinnati. Benton is a USPTA certified pro who has seen it all when it comes to tennis. He has spent years teaching at public and private clubs across the United States, as well as at several well-known tennis resorts. His focus is now squarely on providing high level private instruction for players just learning the game, all the way up to accomplished players looking to fine-tune their games. He is patient but energetic, and prides himself on being adaptable to every type of player.