See what our 100,000+ students are saying...
Top-Rated Tennis Coaches in Corpus Christi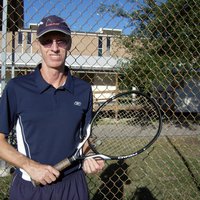 USPTR certified and have a Master's Degree in Education
Coached district championship teams at 4 different high schools
Coached state qualifiers at 2 different schools
Here's what you can expect from a PlayYourCourt tennis coach in Corpus Christi...
Our coaches come to any court of your choice for tennis lessons in Corpus Christi

We work with your schedule to squeeze tennis lessons into your busy life
You'll get the best tennis coach in Corpus Christi based on hundreds of 5-star reviews

We work with all ages and skill levels - kids tennis lessons, adult lessons, and beginner lessons
What makes our tennis lessons in Corpus Christi better?
The Perfect Coach
We find you the best coach for your specific tennis goals.
Play When You Want
We work with your schedule to squeeze tennis into your busy life.
Courts Near You
Your lessons are just minutes away on a nearby court.
01
Choose Your Coach
Finding the right tennis coach is difficult, but we've already done the hard work for you. Tell us your goals and our coach-finder will search our 2,000+ coach database to find the perfect instructor for you.
Find Your Coach
02
Book Your Lessons
Our team is here to help you every step of the way. If you have any questions or want to purchase over the phone, call us at 301.575.6112 or buy online now if you're ready to get started.
Get Started
03
Improve Your Game
Talk to your coach to schedule your first lesson at a court and time that is convenient for you. You'll have fun and be amazed how quickly you will improve when you're working with the right tennis coach.
Find Your Coach
Looking to Play More Tennis?
The PlayYourCourt community is the easiest way to meet new players in the Corpus Christi area.
Learn More
More about tennis lessons in Corpus Christi, TX
Close-Up: The Tennis Scene In Corpus Christi, TX
A coastal town in Texas, Corpus Christi is nicknamed "Sparkling City of the Sea." Home to migratory birds and endangered Kemp's ridley sea turtles, the city is an exotic jewel tucked into a Texan bay. It's a picturesque location for just about any activity, but the tennis scene is particularly energetic.
The Corpus Christi Tennis Association is a not-for-profit facility that aims not only to boost the athleticism of its members but also teach character on and off the court. It's a charitable organization that grants scholarships to tennis students in need. The youth tennis programs not only offer great junior tennis clinics and camps. The Association puts tennis at the heart of the Corpus Christi community.
Sweet Spot Tennis at the HEB Tennis Center is similarly structured to support the community. Built on the ethos of friendship and togetherness, competition is both friendly and fierce. The High Performance Academy offers kids tennis lessons and focuses on junior development. Adults can access private tennis lessons with area pros in the Corpus Christi area.
Corpus Christi is an excellent place to improve your game while enjoying one of Texas' most unique cities. Pick up a racquet, because when you pitch a serve in Corpus Christi, you're also serving the community.
Featured PlayYourCourt Coach Providing Tennis Lessons In Corpus Christi, TX
VIc D. is our featured coach providing tennis lessons in Corpus Christi! Vic is a high-performance player and coach who brings many years of experience to the court with him. As a player, he has held the number one ranking in both singles and doubles in the state of Texas. As a coach, he has earned his PTR certification and also carries a masters degree in education. Much of his experience comes from being a head coach of high school tennis programs, so he specializes in teaching tennis lessons to competitive junior players, but he loves teaching tennis lessons to players of all ages and skill levels. Vic provides the best tennis lessons in Corpus Christi, so be sure to look him up when you are in town!