See what our 100,000+ students are saying...
Top-Rated Tennis Coaches in St. Louis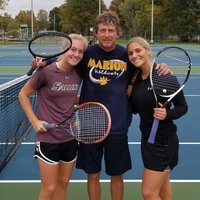 USPTA certified with 15+ years teaching and coaching experience
All ages and abilities are welcome
I stress hard work and sportsmanship
Here's what you can expect from a PlayYourCourt tennis coach in St. Louis...
Our coaches come to any court of your choice for tennis lessons in St. Louis

We work with your schedule to squeeze tennis lessons into your busy life
You'll get the best tennis coach in St. Louis based on hundreds of 5-star reviews

We work with all ages and skill levels - kids tennis lessons, adult lessons, and beginner lessons
What makes our tennis lessons in St. Louis better?
The Perfect Coach
We find you the best coach for your specific tennis goals.
Play When You Want
We work with your schedule to squeeze tennis into your busy life.
Courts Near You
Your lessons are just minutes away on a nearby court.
01
Choose Your Coach
Finding the right tennis coach is difficult, but we've already done the hard work for you. Tell us your goals and our coach-finder will search our 2,000+ coach database to find the perfect instructor for you.
Find Your Coach
02
Book Your Lessons
Our team is here to help you every step of the way. If you have any questions or want to purchase over the phone, call us at 301.575.6112 or buy online now if you're ready to get started.
Get Started
03
Improve Your Game
Talk to your coach to schedule your first lesson at a court and time that is convenient for you. You'll have fun and be amazed how quickly you will improve when you're working with the right tennis coach.
Find Your Coach
What's New in St. Louis Tennis
Looking to Play More Tennis?
The PlayYourCourt community is the easiest way to meet new players in the St. Louis area.
Learn More
More about tennis lessons in St. Louis, MO
Close-Up: The Tennis Scene In St. Louis, MO
Despite chilly winter temperatures and inclement weather, St. Louis is home to excellent year round tennis opportunities! The city of St. Louis maintains hundreds of tennis courts open to the public, and there are a surplus of indoor options for those tennis fanatics who don't want to let their games get too rusty in the winter months.
The lifeblood of the tennis scene in St. Louis can be found at Forest Park. Forest Park is an outdoor lover's oasis. The park spans 1,400 acres, making it double the size of New York City's central park and one of the premier urban parks in the country. Forest Park is home to the Dwight Davis Tennis Center. The tennis center has won many awards, but none more special than earning the "Public Tennis Facility of the year" award in 2010. It features 18 fully lit hard courts, and is highlighted by a stadium court that has a capacity of 1,700 fans! The facility was created to grow the game of tennis in the area at every level, and thus has programming designed for all ages and players.
The facility was named after Dwight Davis, who was a pillar in the community and international tennis, as well. He was one of the original donors for the world-renowned Davis Cup tennis tournament which still bears his name to this day. The facility is run and funded by a non-profit organization bearing the same name. They fund the facilities upkeep, staff and programming, and rely on the support of the community that it gives back too!
St. Louis is also home to several colleges, making the collegiate tennis scene a popular recreational outlet for tennis fans from all over the area. St. Louis University and Washington University in St. Louis are the most prominent. St. Louis University has Division 1 programs who regularly host some of the top teams in the nation, and Washington University is one of the premier Division 3 programs in the country! Being a three season sport, St. Louis residents come out in large numbers to support their teams in the fall, winter and spring!
Featured PlayYourCourt Coach Providing Tennis Lessons In St. Louis, MO
Andrew C. is PlayYourCourt's featured pro providing tennis lessons in the St. Louis area. Andrew is a USPTA certified coach and former D-I tennis player who brings a lifelong passion for the game to each and every one of his lessons. He has coached juniors to national championships and college scholarships, but also enjoys working with adults of all levels and helping them to reach their tennis goals, no matter what they are. His energy and love for the game makes his teaching style adaptable to any player!