See what our 100,000+ students are saying...
Top-Rated Tennis Coaches in Albany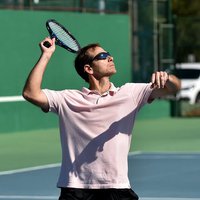 2-Time PTR Certified with 27 years teaching experience
Teach all levels - great with beginner and intermediate players
Patient and creative teaching style
Here's what you can expect from a PlayYourCourt tennis coach in Albany...
Our coaches come to any court of your choice for tennis lessons in Albany

We work with your schedule to squeeze tennis lessons into your busy life
You'll get the best tennis coach in Albany based on hundreds of 5-star reviews

We work with all ages and skill levels - kids tennis lessons, adult lessons, and beginner lessons
What makes our tennis lessons in Albany better?
The Perfect Coach
We find you the best coach for your specific tennis goals.
Play When You Want
We work with your schedule to squeeze tennis into your busy life.
Courts Near You
Your lessons are just minutes away on a nearby court.
01
Choose Your Coach
Finding the right tennis coach is difficult, but we've already done the hard work for you. Tell us your goals and our coach-finder will search our 2,000+ coach database to find the perfect instructor for you.
Find Your Coach
02
Book Your Lessons
Our team is here to help you every step of the way. If you have any questions or want to purchase over the phone, call us at 301.575.6112 or buy online now if you're ready to get started.
Get Started
03
Improve Your Game
Talk to your coach to schedule your first lesson at a court and time that is convenient for you. You'll have fun and be amazed how quickly you will improve when you're working with the right tennis coach.
Find Your Coach
Looking to Play More Tennis?
The PlayYourCourt community is the easiest way to meet new players in the Albany area.
Learn More
More about tennis lessons in Albany, NY
Close-Up: The Tennis Scene in Albany, NY
The capital of New York, Albany often gets stuck in the shadows of Manhattan's towering skyscrapers, but for tennis players, Albany, NY has a lot more to offer than the Big Apple. Unlike NYC, Albany is home to large indoor facilities like Tri-City Fitness, which allows tennis lovers to play year-round. Whether you're looking for tennis lessons for the kids, your own game, or want to play with a team, you can serve it up any way you like!
When the weather gets nice, you won't want to miss playing outside in beautiful Upstate NY. Albany Tennis Club offers USTA certified games, Interclub Play, as well as many qualifying events for national tournaments. Prep for it all by taking tennis lessons in Albany, NY with one of the many PlayYourCourt pros in the area. These racket-wielding experts won't let you go into the summer season without a few key tips to improve that serve.
Even if you're not staying in Albany centre, you can find many opportunities to play in the many charming towns that compose the Capital Region. USTA-grade tennis is even available in Glens Falls, Troy and Schenectady.
Featured PlayYourCourt Coach Providing Tennis Lessons In Albany, NY
Mark B. is our featured coach providing tennis lessons in Albany, NY! Mark is USPTR certified with over 30 years of teaching experience. He is a 4.5 level player who played three years of D-III college tennis as he earned his BA in Physical Education, which he then went on to get a Master's in. He also has a Master's in Education Administration and is the all time winningest women's coach at Union College. His patient attitude and stress of the fun of the game makes him the perfect coach for anyone looking for tennis lessons in Albany, NY.