See what our 100,000+ students are saying...
Top-Rated Tennis Coaches in Birmingham

Have competed with and won against D1 Level Players
Coach Players to State Championships; Students competing in Nationals
USPTA Certified for 6 years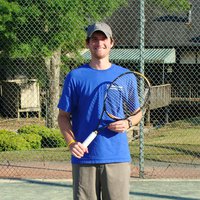 USPTA certified with 15 years of teaching experience
Teach all ages and skill levels - great with any type of player
Fun, positive and understanding
Here's what you can expect from a PlayYourCourt tennis coach in Birmingham...
Our coaches come to any court of your choice for tennis lessons in Birmingham

We work with your schedule to squeeze tennis lessons into your busy life
You'll get the best tennis coach in Birmingham based on hundreds of 5-star reviews

We work with all ages and skill levels - kids tennis lessons, adult lessons, and beginner lessons
What makes our tennis lessons in Birmingham better?
The Perfect Coach
We find you the best coach for your specific tennis goals.
Play When You Want
We work with your schedule to squeeze tennis into your busy life.
Courts Near You
Your lessons are just minutes away on a nearby court.
01
Choose Your Coach
Finding the right tennis coach is difficult, but we've already done the hard work for you. Tell us your goals and our coach-finder will search our 2,000+ coach database to find the perfect instructor for you.
Find Your Coach
02
Book Your Lessons
Our team is here to help you every step of the way. If you have any questions or want to purchase over the phone, call us at 301.575.6112 or buy online now if you're ready to get started.
Get Started
03
Improve Your Game
Talk to your coach to schedule your first lesson at a court and time that is convenient for you. You'll have fun and be amazed how quickly you will improve when you're working with the right tennis coach.
Find Your Coach
Looking to Play More Tennis?
The PlayYourCourt community is the easiest way to meet new players in the Birmingham area.
Learn More
More about tennis lessons in Birmingham, AL
Close-Up: The Tennis Scene In Birmingham, AL
Birmingham, AL is one of the unsung gems of the south. Founded in 1871, in the post-Civil War Reconstruction period, it has earned nicknames like The Magic City and Pittsburgh of the South. The tennis scene in Birmingham, AL is just as rich as the metropolis.
The Highland Park Tennis Center, or as they say, "the heartbeat of tennis in Birmingham, AL," features an academy of pros that provide quality instruction. Originally established for serious junior tournament players, the Academy now offers tennis lessons for players all over Birmingham, AL. It's the only Elite tennis program in Birmingham, AL, and they have the results to prove it: it consistently develops, coaches and produces players from the beginning level to the Pro Tour.
In other words, tennis is a pretty serious sport in Birmingham, AL. That's why setting up private tennis lessons in Birmingham, AL with a PlayYourCourt coach is the first step towards joining a vibrant community to tennis players. For full-service attention, try the Inverness Country Club. It features 13 hydro courts and 3 US Open Blue hard courts, all lit for night play. Their pro shop will also ensure that you're well-equipped to win on the court.
Thanks to Birmingham, AL's warm climate, tennis is a year round sport and you can always access PlayYourCourt coaches for junior tennis lessons, adult tennis lessons and more with highly rated pros.
Featured PlayYourCourt Coach Providing Tennis Lessons In Birmingham, AL
John F. is our featured coach offering tennis lessons in Birmingham! John brings with him 15 years of teaching experience and is USPTA certified. He played Division I College tennis at Birmingham-Southern College and specializes in mental toughness. In his private tennis lessons you'll learn just as much mental strategy as you will physical strategy. Though he is currently the Director of Junior Development at Pine Tree Country Club he works will all ages and levels. If you want quality tennis lessons in Birmingham, AL there is no better coach than John!