See what our 100,000+ students are saying...
Top-Rated Tennis Coaches in Cleveland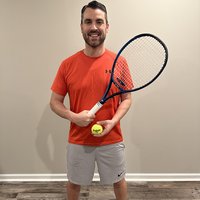 Coach for Recreational and Competitive Players
All ages and All Skill Levels.
12 Years of Teaching Experience.
Here's what you can expect from a PlayYourCourt tennis coach in Cleveland...
Our coaches come to any court of your choice for tennis lessons in Cleveland

We work with your schedule to squeeze tennis lessons into your busy life
You'll get the best tennis coach in Cleveland based on hundreds of 5-star reviews

We work with all ages and skill levels - kids tennis lessons, adult lessons, and beginner lessons
What makes our tennis lessons in Cleveland better?
The Perfect Coach
We find you the best coach for your specific tennis goals.
Play When You Want
We work with your schedule to squeeze tennis into your busy life.
Courts Near You
Your lessons are just minutes away on a nearby court.
01
Choose Your Coach
Finding the right tennis coach is difficult, but we've already done the hard work for you. Tell us your goals and our coach-finder will search our 2,000+ coach database to find the perfect instructor for you.
Find Your Coach
02
Book Your Lessons
Our team is here to help you every step of the way. If you have any questions or want to purchase over the phone, call us at 301.575.6112 or buy online now if you're ready to get started.
Get Started
03
Improve Your Game
Talk to your coach to schedule your first lesson at a court and time that is convenient for you. You'll have fun and be amazed how quickly you will improve when you're working with the right tennis coach.
Find Your Coach
Looking to Play More Tennis?
The PlayYourCourt community is the easiest way to meet new players in the Cleveland area.
Learn More
More about tennis lessons in Cleveland, OH
Close-Up: The Tennis Scene In Cleveland, OH
Located on the shores of Lake Erie, Cleveland, OH is a bustling midwestern epicenter of history, culture, and outdoor activity. For tennis lovers, Cleveland, OH has a wealth of options for play. The season generally kicks off in April and then closes in October and you can access free local tennis courts, tennis parks, condo courts and tennis clubs. Many players in Cleveland, OH join USTA-certified leagues or get involved in Tennis Ladder Championships.
For state of the art facilities and top tier tennis lessons, check out one of Paramount Tennis Club's two locations flanking Cleveland, OH. The centers offer climate-controlled indoor courts for players who want to play through the cold Cleveland, OH winters. Offering tennis lessons to players at all levels, the Paramount Tennis Club is truly a family-friendly spot. Junior tennis lessons are available to children as young as four! But, if you think it's too early to put your tot on the court, Paramount Tennis Club also offers child care services so that you can train without worrying about hiring a babysitter.
The Cleveland Racquet Club, meanwhile is a little more up-market and features junior and adult tennis clinics, the full service club offers a number of membership options. It's a great way to quickly become ensconced in the Cleveland, OH community. Of course for more affordable and convenient options for tennis lessons in Cleveland you'll want to book with a PlayYourCourt coach!
Featured PlayYourCourt Coach Providing Tennis Lessons In Cleveland, OH
PlayYourCourt Coach Taylor W. is our featured coach providing tennis lessons based in Cleveland, OH and played Division II college tennis at Mercyhurst University. She is friendly and outgoing, which makes it easy for her students to feel comfortable on the court. Coach Taylor also has experience in working as a counselor in mental health field. If you're looking to get dialed into the local tennis scene, Taylor is a great fit. Because she is so bubbly and fun, she is a perfect choice for someone who is a little on the shy side that wants to break out of their shell.