Answer a few Questions to Find Your Perfect Coach
Finding the right tennis coach is difficult, but we've already done the hard work for you. Tell us your goals and our coach-finder will search our 2,300+ coach database to find the perfect instructor for you.

Schedule Your Lessons When & Where You Choose
Schedule your lessons at courts and times that are convenient for you. If you need any help or have questions, our concierge team is here to help you every step of the way.
Learn, Play and Improve Your tennis Game
Our top-rated coaches are knowledgeable, fun and patient. You'll be amazed how quickly you will improve when you're working with a coach hand-picked just for you.
Top-Rated Tennis Coaches in Dubuque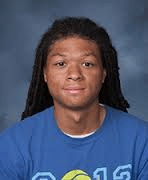 Dubuque
As low as: $59/hr
Unlock VIP Pricing $54/hr
Graduate Assistant Tennis Coach for University of Dubuque, PTR-Adult
Played Four Years of College Tennis at University of Dubuque
Calm, encouraging, and fun style, making sure you learn.
WANT HELP?
If you have questions or need some help, give us a call at 301.575.6112 or book online now if you're ready to get started.
The New Way to Elevate Your Tennis Game
What makes our tennis lessons better?
FIND THE BEST COACH
Our concierge approach will find your perfect coach based on your age, skill level and goals
Play on Courts Near You
We come to a local court near you, so you don't have to travel far
Easy, Flexible scheduling
Schedule lessons when convenient for you, so you can squeeze tennis into your busy lifestyle
No Expensive Club Required
Save thousands on an expensive tennis or country club membership
Frequently Asked Questions
Where will the lessons take place?

Your coach will come to any court of your choice. Not sure of the closest court? No sweat, they will recommend a convenient location.

How do I know I'll love my coach?

We ask you questions and hand pick the perfect coach based on what you are looking for. We are so confident in our coach selection process that we offer a 100% satisfaction guarantee. If we can't find the perfect instructor for you then we will refund your unused lesson credits.

Can I start with just one lesson?

You sure can, although we offer a 100% money back guarantee so most students start with a lesson package to save money since there is no risk.

How do I get in contact with my instructor?

Once you have booked your lesson package, you will immediately receive your instructor's contact information. The quickest way to schedule your first lesson is to call or text your coach and they'll get back to you asap. If your coach doesn't hear from you they'll reach out within 24 hours.

I've never played before, do you work with beginners?

Absolutely! Our certified instructors regularly work with players of all ages and ability levels.

Can I bring a friend?

Absolutely! Each extra person is only an additional $10 per hour. Adding friends to your lesson is a great way to cut down on your lesson costs.
More about tennis lessons in Dubuque, IA
Close-Up: The Tennis Scene In Dubuque, IA
If you're in Dubuque, Iowa, check on the river scene, the architecture, and the five high learning institutions in the city. While you're at it, play some tennis!
As part of the Dubuque Leisure Department Adaptive Sports Open Gym program, the city sponsors tennis clinics with tennis lessons that cater to players with disabilities. The clinics are free and open to all ages. For those who need it, sports chairs are available.
The Leisure Department also offers intramural tennis programs for elementary school players and Junior Tournaments at some of the city's park tennis courts.
Those looking to join a tennis club can join Alpine Tennis and Fitness. For club level rates, members get access to court reservations, fitness classes like spin and yoga, classes and clinics, and drills led by certified tennis instructors.
Another club option is the Dubuque Tennis Association. The registration fee is only $10 and those who join get to take part in the Preseason Open House, clinics led by local high school varsity tennis coaches, doubles, tournaments, as well as racket stringing and a discount at the local Shoe Shack. A great choice for those who want a relaxed, social community environment to play tennis in. Be sure to brush up on your technique with a PlayYourCourt tennis coach before joining up with any of the leagues, sign up for a few tennis lessons to nail down that serve!
The Iowa Intercollegiate Tennis conference often culminates in Dubuque and in 2016 The Coe College Men's Tennis team went on a 28 match winning streak that ended with a 9-0 win in the season finale against Loras College. The victory gave the team their fifth straight IIAC Championship and 11th overall. If you're in town head to the college to check out one of their games and get inspired!
Featured PlayYourCourt Coach Providing Tennis Lessons In Dubuque, IA
Dishon D. is our featured coach providing tennis lessons in Dubuque, IA! Dishon is himself a graduate of the University of Dubuque where he is currently a graduate assistant tennis coach. He is PTR certified with a total of nine years teaching experience. Previously, he was also the Head Wahlert Girls tennis coach. Dishon focuses on excellent techniques and building a strong foundation, though he keeps his lessons fun and engaging. If you're looking for tennis lessons in Dubuque, Dishon is a perfect choice!