See what our 100,000+ students are saying...
Top-Rated Tennis Coaches in Knoxville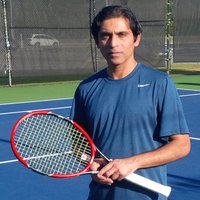 Finals Gainesville Open in early 90's, some college tennis in Pune
High school student (#2 in age group), teaching all age groups, levels
PTR-certified since 2014, 7+ years teaching
Here's what you can expect from a PlayYourCourt tennis coach in Knoxville...
Our coaches come to any court of your choice for tennis lessons in Knoxville

We work with your schedule to squeeze tennis lessons into your busy life
You'll get the best tennis coach in Knoxville based on hundreds of 5-star reviews

We work with all ages and skill levels - kids tennis lessons, adult lessons, and beginner lessons
What makes our tennis lessons in Knoxville better?
The Perfect Coach
We find you the best coach for your specific tennis goals.
Play When You Want
We work with your schedule to squeeze tennis into your busy life.
Courts Near You
Your lessons are just minutes away on a nearby court.
01
Choose Your Coach
Finding the right tennis coach is difficult, but we've already done the hard work for you. Tell us your goals and our coach-finder will search our 2,000+ coach database to find the perfect instructor for you.
Find Your Coach
02
Book Your Lessons
Our team is here to help you every step of the way. If you have any questions or want to purchase over the phone, call us at 301.575.6112 or buy online now if you're ready to get started.
Get Started
03
Improve Your Game
Talk to your coach to schedule your first lesson at a court and time that is convenient for you. You'll have fun and be amazed how quickly you will improve when you're working with the right tennis coach.
Find Your Coach
Looking to Play More Tennis?
The PlayYourCourt community is the easiest way to meet new players in the Knoxville area.
Learn More
More about tennis lessons in Knoxville, TN
Close-Up: The Tennis Scene In Knoxville, TN
Knoxville may not be as well known as Tennessee's more famous cities in Nashville and Memphis, but don't tell it's tennis players that. Knoxville has seen a tennis revival in recent years thanks in large part to the Knoxville Challenger professional tennis tournament on the ATP Tours Challenger series.
The event takes place each November and draws the top American and International talent to the Goodfriend Indoor Tennis center. The young players who take the court at these challenger events gain all-important ATP ranking points as they attempt to make their way to the biggest tennis tournaments in the world. The intimate indoor atmosphere allows spectators a wonderful opportunity to see world-class tennis and future Grand Slam champions up close and personal.
The impact of the event can be felt at all levels in the local Knoxville tennis community. The Greater Nashville Tennis Association is the local USTA governing body that has taken the renewed interest in tennis and run. They have done a fabulous job of putting on events for juniors just starting the game, all the way up to tournaments for seniors.
As evidenced by the statement on their website below, they are constantly trying to activate an even larger tennis population and look to give back to the community as well. "GKTA volunteers organize tennis leagues, tournaments and learn to play programs for women, men, children and students. GKTA also supports middle school and high school tennis and University of Tennessee men's and women's tennis.
GKTA and the Knoxville department of parks and recreation work together throughout the year to sponsor free lesson programs and the (super fun) Tennis Carnival; an event that is free and open to anyone in the area. They also award scholarships and grants for local players, teams and schools. The money from these grants can be applied to lesson programs, rackets for underprivileged kids, and tournament or other event sponsorships.
If you are wanting to go pick up a game or two, West Hills Park is undoubtedly the tennis capital of the city of Knoxville. It's 13 courts offer ample playing opportunities for tennis players of all levels.
Featured PlayYourCourt Coach Providing Tennis Lessons in Knoxville, TN
Derek W. is PlayYourCourt's featured pro providing tennis lessons in Knoxville. Derek brings with him over 35 years of teaching experience. He is a USPTA certified teaching professional who is very capable of working with any type of tennis player. With a high level playing background including 4 years of college tennis as a scholarship athlete, he specializes in working with high-performance tennis players. He strives to help those who truly want to improve their game by giving them the tools and skills that will help them reach all their tennis goals.