Answer a few Questions to Find Your Perfect Coach
Finding the right tennis coach is difficult, but we've already done the hard work for you. Tell us your goals and our coach-finder will search our 2,300+ coach database to find the perfect instructor for you.

Schedule Your Lessons When & Where You Choose
Schedule your lessons at courts and times that are convenient for you. If you need any help or have questions, our concierge team is here to help you every step of the way.
Learn, Play and Improve Your tennis Game
Our top-rated coaches are knowledgeable, fun and patient. You'll be amazed how quickly you will improve when you're working with a coach hand-picked just for you.
Top-Rated Tennis Coaches in Memphis
As low as: $64/hr
Unlock VIP Pricing $54/hr
Ranked 196 in U18 in Southern California
Assistant coach for a varsity high school team.
I have about a year of coaching experience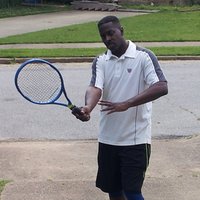 Cordova, TN
As low as: $74/hr
Unlock VIP Pricing $64/hr
USNTA (United States National Tennis Association) Insured
Teach all levels - great with high-performance players
Patient teacher that is focused on quick development
WANT HELP?
If you have questions or need some help, give us a call at 301.575.6112 or book online now if you're ready to get started.
The New Way to Elevate Your Tennis Game
What makes our tennis lessons better?
FIND THE BEST COACH
Our concierge approach will find your perfect coach based on your age, skill level and goals
Play on Courts Near You
We come to a local court near you, so you don't have to travel far
Easy, Flexible scheduling
Schedule lessons when convenient for you, so you can squeeze tennis into your busy lifestyle
No Expensive Club Required
Save thousands on an expensive tennis or country club membership
Frequently Asked Questions
Where will the lessons take place?

Your coach will come to any court of your choice. Not sure of the closest court? No sweat, they will recommend a convenient location.

How do I know I'll love my coach?

We ask you questions and hand pick the perfect coach based on what you are looking for. We are so confident in our coach selection process that we offer a 100% satisfaction guarantee. If we can't find the perfect instructor for you then we will refund your unused lesson credits.

Can I start with just one lesson?

You sure can, although we offer a 100% money back guarantee so most students start with a lesson package to save money since there is no risk.

How do I get in contact with my instructor?

Once you have booked your lesson package, you will immediately receive your instructor's contact information. The quickest way to schedule your first lesson is to call or text your coach and they'll get back to you asap. If your coach doesn't hear from you they'll reach out within 24 hours.

I've never played before, do you work with beginners?

Absolutely! Our certified instructors regularly work with players of all ages and ability levels.

Can I bring a friend?

Absolutely! Each extra person is only an additional $10 per hour. Adding friends to your lesson is a great way to cut down on your lesson costs.
More about tennis lessons in Memphis, TN
Close-Up: The Tennis Scene In Memphis, TN
It's called the birthplace of rock 'n roll and it grooves along the banks of the Mississippi River. It's Memphis, TN and the tennis scene there is almost as legendary as the music scene. The city boasts 80 tennis teams, multiple tournaments, and a bevy of USTA leagues.
At Tennis Memphis, adult players can access walk-in clinics, senior play, and player cards. The program also does a ton of community outreach including the National Tennis and Learning Network which has a mission of building better community and enhancing lives through tennis. That's how Memphis puts the "serve" in service!
If you like to pair a set of doubles with a little bit of history, look into the Memphis Tennis Association. This organization has been serving up tennis lessons in Memphis, TN since 1952 – that's back to when the King himself was still playing in the dance halls! The date might be vintage at the Memphis Tennis Association, but the facilities are not – Memphis is home to a number of public and private tennis courts.
But while there's a lot of court time, if you're looking for something aspirational while you're grunting through your tennis lessons with a PlayYourCourt coach, head on over to the Memphis Open. Taking place in February, professional players from all over the country take advantage of the Memphis weather to duke it out on the court. The Memphis Open is one of the longest-running American tournaments on the ATP World Tour! It is also the only indoor ATP event that exists in the United States. The winner of the championship is awarded 250 ATP ranking points, which help them qualify for future tournaments.
In any case, Memphis, TN is tennis mecca for players of all levels looking to sharpen their skills. Be sure to sign up for tennis lessons in Memphis, TN through PlayYourCourt, then join a league, or play a pickup game with friends.
Featured PlayYourCourt Coach Providing Tennis Lessons In Memphis, TN
Michael N. is our featured coach providing tennis lessons in Memphis! Michael is a USPTA certified coach and former tour player. He got his start as the number one player for Lambuth University and went on to have a three season professional career. He teaches all levels but really shines with advanced level players given his playing history. His tennis lessons are centered around detail and technicality. If you're looking for advanced tennis lessons in Memphis, TN Michael is the perfect coach for you!