See what our 100,000+ students are saying...
Top-Rated Tennis Coaches in Mobile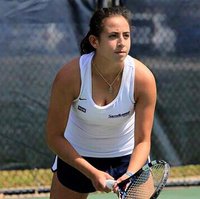 15 years of tennis experience
Seniors, Adults, Juniors, Kids
Typical lesson structure would be 30 min of rhythm and technical work
Here's what you can expect from a PlayYourCourt tennis coach in Mobile...
Our coaches come to any court of your choice for tennis lessons in Mobile

We work with your schedule to squeeze tennis lessons into your busy life
You'll get the best tennis coach in Mobile based on hundreds of 5-star reviews

We work with all ages and skill levels - kids tennis lessons, adult lessons, and beginner lessons
What makes our tennis lessons in Mobile better?
The Perfect Coach
We find you the best coach for your specific tennis goals.
Play When You Want
We work with your schedule to squeeze tennis into your busy life.
Courts Near You
Your lessons are just minutes away on a nearby court.
01
Choose Your Coach
Finding the right tennis coach is difficult, but we've already done the hard work for you. Tell us your goals and our coach-finder will search our 2,000+ coach database to find the perfect instructor for you.
Find Your Coach
02
Book Your Lessons
Our team is here to help you every step of the way. If you have any questions or want to purchase over the phone, call us at 301.575.6112 or buy online now if you're ready to get started.
Get Started
03
Improve Your Game
Talk to your coach to schedule your first lesson at a court and time that is convenient for you. You'll have fun and be amazed how quickly you will improve when you're working with the right tennis coach.
Find Your Coach
Looking to Play More Tennis?
The PlayYourCourt community is the easiest way to meet new players in the Mobile area.
Learn More
More about tennis lessons in Mobile, AL
Close-Up: The Tennis Scene In Mobile, AL
Mobile, Alabama, is a great place to be for tennis in the next three years. The city will host the Southern Sectional 18 & Over and 40 & Over Championships, one of the world's largest tennis tournaments. It lasts 8 days and involves roughly 2,000 players. The tournament is hosted at the Mobile Tennis Center, which is one the world's largest public tennis facilities.
Speaking of the Mobile Tennis Center… the facility offers private tennis lessons and semi-private tennis lessons as well as clinics. There are are three different membership options. Basic gives you 60 visits while standard and gold are 6 or 12 month commitments. of course for cheaper options with top-rated coaches you'll want to book through PlayYourCourt.
Members also enjoy entry to the Lyons Park and Cottage Hill Tennis Centers, both public as well. Cottage Hill Tennis Center has ten lighted hard courts and a tennis pro available for lessons. Lyons Park has five lighted hard courts and a tennis pro available.
For a private option, look to the Oakwood Swim and Racquet Club boasts 9 courts, with both soft and hard available, and several leagues. Private and semi-private tennis lessons are available from Oakwood's United States Professional Tennis Association teachers. The club also has a pro shop for equipment and maintenance.
Featured PlayYourCourt Coach Providing Tennis Lessons In Mobile, AL
Lance D. is our featured PlayYourCourt coach offering tennis lessons in Mobile! Lance is PTR certified with 18 years of teaching experience. He played tennis at Alabama State University and though his full-time job is law enforcement his true passion is giving tennis lessons. He's excellent with children and adults, private and semi-private. If you are looking for tennis lessons in Mobile, Lance is an excellent choice!