See what our 100,000+ students are saying...
Top-Rated Tennis Coaches in Prescott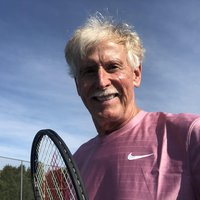 Elite USPTA Professional and USA Tennis High Performance Coach
USA Tennis High Performance Coaching Certification
USPTA Elite ProfessionL and IPTPA certified; 25 + years experience
Here's what you can expect from a PlayYourCourt tennis coach in Prescott...
Our coaches come to any court of your choice for tennis lessons in Prescott

We work with your schedule to squeeze tennis lessons into your busy life
You'll get the best tennis coach in Prescott based on hundreds of 5-star reviews

We work with all ages and skill levels - kids tennis lessons, adult lessons, and beginner lessons
What makes our tennis lessons in Prescott better?
The Perfect Coach
We find you the best coach for your specific tennis goals.
Play When You Want
We work with your schedule to squeeze tennis into your busy life.
Courts Near You
Your lessons are just minutes away on a nearby court.
01
Choose Your Coach
Finding the right tennis coach is difficult, but we've already done the hard work for you. Tell us your goals and our coach-finder will search our 2,000+ coach database to find the perfect instructor for you.
Find Your Coach
02
Book Your Lessons
Our team is here to help you every step of the way. If you have any questions or want to purchase over the phone, call us at 301.575.6112 or buy online now if you're ready to get started.
Get Started
03
Improve Your Game
Talk to your coach to schedule your first lesson at a court and time that is convenient for you. You'll have fun and be amazed how quickly you will improve when you're working with the right tennis coach.
Find Your Coach
Looking to Play More Tennis?
The PlayYourCourt community is the easiest way to meet new players in the Prescott area.
Learn More
More about tennis lessons in Prescott, AZ
Close-Up: The Tennis Scene In Prescott, AZ
Named one of the healthiest and happiest cities in America by Time Magazine, Prescott, AZ is a tennis player's dream. Known for its scenic beauty, outdoor recreational activities, and clean air quality, Prescott, AZ is the perfect place to start a game, a league, or take tennis lessons.
The Prescott Athletic Club takes a holistic approach to the fitness craze, it's a place where health, wellness and community converge. For tennis players, the Prescott Athletic Club offers private tennis classes, drills, and clinics for adults, juniors, and children over the age of three. There is a high monthly fee to join, but the grounds are spectacular.
The Prescott Area Tennis Association is a nonprofit dedicated to bringing tennis to the community. The organization helps residents access three different court locations, including the YavaPai Tennis Center, Prescott High School, and Prescott Athletic & Tennis Club. Residents can schedule time at any of these courts to take tennis lessons in Prescott, AZ. Many of the courts are lighted, meaning you can play well into the night – long after the hot Prescott, AZ sun has set and the night has cooled off the courts.
Prescott, AZ is a happy, healthy community of tennis players. Tennis lessons with a PlayYourCourt coach are a great way to get involved in the local community as well as burn calories, up your aerobic capacity, and take in Prescott, AZ's beautiful fresh air.
Featured PlayYourCourt Coach Providing Tennis Lessons In Prescott, AZ
Jim M. is our featured coach providing tennis lessons near Prescott! Jim graduated the Resource Realizations Leadership and Performance Coaching Academies and is, therefore, a certified performance coach. His specialty is teaching tennis strategy and technique, and though he excels with high-level players he enjoys giving private tennis lessons to any level. If you are looking for tennis lessons in Prescott, Jim is an excellent choice!