See what our 100,000+ students are saying...
Top-Rated Tennis Coaches in Tucson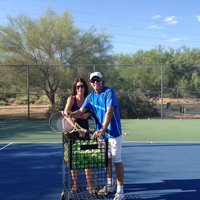 PTR certified with 10 years teaching in South America, 13 more in AZ
great with all ages
very positive, love to play with my students, work hard & have fun!
Here's what you can expect from a PlayYourCourt tennis coach in Tucson...
Our coaches come to any court of your choice for tennis lessons in Tucson

We work with your schedule to squeeze tennis lessons into your busy life
You'll get the best tennis coach in Tucson based on hundreds of 5-star reviews

We work with all ages and skill levels - kids tennis lessons, adult lessons, and beginner lessons
What makes our tennis lessons in Tucson better?
The Perfect Coach
We find you the best coach for your specific tennis goals.
Play When You Want
We work with your schedule to squeeze tennis into your busy life.
Courts Near You
Your lessons are just minutes away on a nearby court.
01
Choose Your Coach
Finding the right tennis coach is difficult, but we've already done the hard work for you. Tell us your goals and our coach-finder will search our 2,000+ coach database to find the perfect instructor for you.
Find Your Coach
02
Book Your Lessons
Our team is here to help you every step of the way. If you have any questions or want to purchase over the phone, call us at 301.575.6112 or buy online now if you're ready to get started.
Get Started
03
Improve Your Game
Talk to your coach to schedule your first lesson at a court and time that is convenient for you. You'll have fun and be amazed how quickly you will improve when you're working with the right tennis coach.
Find Your Coach
Looking to Play More Tennis?
The PlayYourCourt community is the easiest way to meet new players in the Tucson area.
Learn More
More about tennis lessons in Tucson, AZ
Close-Up: The Tennis Scene In Tuscon, AZ
There's a reason that Tucson is one of the best winter destinations for snowbirds… its beautiful climate (especially in the winter) makes it the PERFECT destination for outdoor tennis. The City of Tucson realized that long ago and has since developed a year-round tennis scene that will satisfy even the pickiest tennis players. From five star tennis resorts all the way down to public junior tennis programs, there really is something for everyone.
Tucson is home to the Reffkin Tennis Center, the Southwest's largest tennis facility. It has grown from humble beginnings into the flagship destination for tennis in all of the Southwest, even earning the USTA's hallowed Outstanding Tennis Facility Award. As if its 25 lit courts was not enough, it boasts the most Quickstart 10 & Under lined tennis courts in the area as well. For those not familiar, 10 & Under tennis takes place on a standard tennis court, but with shorter lines and different balls that are designed specifically for getting youngsters into the game and making it much easier to learn. Though the Reffkin Tennis Center places a premium on developing new tennis players, they also offer programming for juniors of every level, and adults too!
It is also home to the Smith-Perry Tennis Academy, one of the most renowned in the region where some of the top young talent in the nation train, most of whom go on to play collegiate tennis, and sometimes even professionally. It is also the former home of the Celebrity Tennis Classic, where professionals and celebrities hit the courts together for one of the great shows in tennis history. If Reffkin was good enough for the likes of Rod Laver and Billie Jean King, it sure is good enough for us tennis mortals!
While Reffkin is surely the heartbeat of public tennis in the area, you will also find fifty-two other public facilities in the area, so it is never difficult to find a court or a match. Tucson, AZ is also home to several beautiful tennis resorts, but none more so than the Hilton El Conquistador Resort. Surrounded by the Santa Catalina Mountain Range, this gorgeous resort is cut into the countryside providing stunning views, and even more amazing amenities. The facility boasts a ridiculous 31 lit courts, two full service pro shops, clinics for all ages, and first-class locker rooms. The Hilton El Conquistador is also the only tennis facility in the area with FREE tennis programs for those with disabilities. It is the perfect place to work on your game and enjoy true relaxation.
Featured PlayYourCourt Coach Providing Tennis Lessons In Tucson, AZ
Tad B. is PlayYourCourt's featured pro providing tennis lessons in Tucson. Tad has dedicated his entire life to tennis. He played on the ATP Tour and competed in Grand Slams before turning his attention to coaching the game. He was the PAC 12 Coach of the Year and now uses his expertise to help every type of player become the best that they can be. He possesses a strong ability to diagnose a player's weaknesses, and helps to turn them into strengths, which is the quickest way to improve your game!