See what our 100,000+ students are saying...
Top-Rated Tennis Coaches in Tyler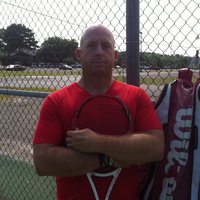 USPTA certified with 20 years of teaching experience
Teaches all ages and skill levels
Patient and encouraging
Here's what you can expect from a PlayYourCourt tennis coach in Tyler...
Our coaches come to any court of your choice for tennis lessons in Tyler

We work with your schedule to squeeze tennis lessons into your busy life
You'll get the best tennis coach in Tyler based on hundreds of 5-star reviews

We work with all ages and skill levels - kids tennis lessons, adult lessons, and beginner lessons
What makes our tennis lessons in Tyler better?
The Perfect Coach
We find you the best coach for your specific tennis goals.
Play When You Want
We work with your schedule to squeeze tennis into your busy life.
Courts Near You
Your lessons are just minutes away on a nearby court.
01
Choose Your Coach
Finding the right tennis coach is difficult, but we've already done the hard work for you. Tell us your goals and our coach-finder will search our 2,000+ coach database to find the perfect instructor for you.
Find Your Coach
02
Book Your Lessons
Our team is here to help you every step of the way. If you have any questions or want to purchase over the phone, call us at 301.575.6112 or buy online now if you're ready to get started.
Get Started
03
Improve Your Game
Talk to your coach to schedule your first lesson at a court and time that is convenient for you. You'll have fun and be amazed how quickly you will improve when you're working with the right tennis coach.
Find Your Coach
What's New in Tyler Tennis
Looking to Play More Tennis?
The PlayYourCourt community is the easiest way to meet new players in the Tyler area.
Learn More
More about tennis lessons in Tyler, TX
Close-Up: The Tennis Scene In Tyler, TX
If you're living in or visiting the Rose Capital of the World - Tyler, Texas - take some time to practice your tennis serve. Try the Tyler Tennis and Swim Club. It has 16 lighted courts and programs for adults and juniors from Pee Wees (3-4), Slammers (6-10), and Aces (11-14). There is also the Cliff Drysdale Jr Academy, an invitation-only program starting at age 10 and designed for competition-bound players. Adults can choose from the numerous league membership options, all lasting 6 weeks. The winner of a league gets the next league free. They also offer socials and mixers, such as Sip n' Serve: light play followed by happy hour drinks.
The Faulkner Tennis Center is a public tennis facility with no residency or membership requirements, although annual memberships are available for discounted court rates. Annual pass options are individual, family, and senior. All memberships include unlimited use of the facility's 8 courts, access to the club's leagues, ball machine, and discounts on clinics. Private tennis lessons are also available, though for a more affordable option you'll want to be sure to book with a PlayYourCourt coach.
For a complete club experience, try the Hollytree Country Club. The tennis facilities include 10 hard courts and 2 lighted clay courts, as well as a pro shop, backboard, ball machine, and patio with a snack bar. The club also puts on clinics, tennis lessons, socials, and tournaments. The junior programs are Mighty Mites (ages 4-8), Honor Squad (8-12), and Tournament Prep for older, competition-bound junior players.
Featured PlayYourCourt Coach Providing Tennis Lessons In Tyler, TX
Jason H. is our featured coach providing tennis lessons in Tyler! Jason is USPTA certified with 20 years of teaching experience who is a gifted coach for any skill level. His private tennis lessons will focus on the player themselves as he creates a lesson plan especially for them. His style is patient and encouraging, and he has coached many players on a national tennis champion team. If you are looking for quality tennis lessons in Tyler, Jason is an excellent choice!