See what our 100,000+ students are saying...
Top-Rated Tennis Coaches in Westchester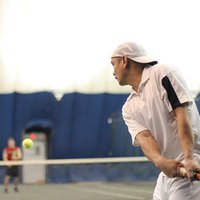 PTR certified. 5 years of teaching experience.
Active 4.5 competitive player that can help get you to the 4.0+ level.
If you can run, catch, throw - you can play tennis. Let me show you!
Here's what you can expect from a PlayYourCourt tennis coach in Westchester...
Our coaches come to any court of your choice for tennis lessons in Westchester

We work with your schedule to squeeze tennis lessons into your busy life
You'll get the best tennis coach in Westchester based on hundreds of 5-star reviews

We work with all ages and skill levels - kids tennis lessons, adult lessons, and beginner lessons
What makes our tennis lessons in Westchester better?
The Perfect Coach
We find you the best coach for your specific tennis goals.
Play When You Want
We work with your schedule to squeeze tennis into your busy life.
Courts Near You
Your lessons are just minutes away on a nearby court.
01
Choose Your Coach
Finding the right tennis coach is difficult, but we've already done the hard work for you. Tell us your goals and our coach-finder will search our 2,000+ coach database to find the perfect instructor for you.
Find Your Coach
02
Book Your Lessons
Our team is here to help you every step of the way. If you have any questions or want to purchase over the phone, call us at 301.575.6112 or buy online now if you're ready to get started.
Get Started
03
Improve Your Game
Talk to your coach to schedule your first lesson at a court and time that is convenient for you. You'll have fun and be amazed how quickly you will improve when you're working with the right tennis coach.
Find Your Coach
Looking to Play More Tennis?
The PlayYourCourt community is the easiest way to meet new players in the Westchester area.
Learn More
More about tennis lessons in Westchester, NY
Close-Up: The Tennis Scene In Westchester, NY
The haven of former New York City residents who want more space, but just can't quit city life, Westchester, NY is quite the epicenter of good sportsmanship.
At the family-owned Yonker's Tennis Center, you can feel like you're among kith and kin – without the drama. In fact, "a courteous and fair approach to relationships" is in their mission statement. That's why it's a great place to play tennis. There are junior tennis lessons for kids 10 & under, as well as USTA certified tennis tournaments. Adults can also get in the game with private tennis lessons, tennis clinics, and USTA leagues, though to really find discounted tennis lessons you'll want to book with PlayYourCourt.
For a pricier option: at the Amonk Tennis Club, members receive unlimited use of tennis courts (and the pool!); invitation to members-only tennis events; and special rates for tennis lessons and tennis clinics. With many indoor tennis courts, tennis is a year round sport at Amonk Tennis Club. The organization offers interclub teams for tennis players of all levels.
For something even more luxe, check out the County Tennis Club of Westchester. Established over 100 years ago, it's one of the oldest private clubs in the country. Just 30 minutes north of New York City, the Country Tennis Club of Westchester features 9 courts – 3 red clay and 6 har-tru. It's worth taking a some tennis lesson in Westchester, NY with a few PlayYourCourt if only so you can rent out a court at this club!
Featured PlayYourCourt Coach Providing Tennis Lessons In Westchester, NY
Raul S. is our featured coach providing tennis lessons in Westchester! Raul is PTR certified and a USTA member who has six years of coaching experience. He teaches all ages and all levels, but is especially great for kids tennis lessons. With 21 years of playing expereince under hsi belt it's no winder he loves it when his students learna nd have fun at the same time. If you're looking for tennis lessons in Westchester, why not take a trial with Raul!