See what our 100,000+ students are saying...
Top-Rated Tennis Coaches in Flagstaff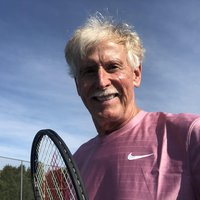 Elite USPTA Professional and USA Tennis High Performance Coach
USA Tennis High Performance Coaching Certification
USPTA Elite ProfessionL and IPTPA certified; 25 + years experience
Here's what you can expect from a PlayYourCourt tennis coach in Flagstaff...
Our coaches come to any court of your choice for tennis lessons in Flagstaff

We work with your schedule to squeeze tennis lessons into your busy life
You'll get the best tennis coach in Flagstaff based on hundreds of 5-star reviews

We work with all ages and skill levels - kids tennis lessons, adult lessons, and beginner lessons
What makes our tennis lessons in Flagstaff better?
The Perfect Coach
We find you the best coach for your specific tennis goals.
Play When You Want
We work with your schedule to squeeze tennis into your busy life.
Courts Near You
Your lessons are just minutes away on a nearby court.
01
Choose Your Coach
Finding the right tennis coach is difficult, but we've already done the hard work for you. Tell us your goals and our coach-finder will search our 2,000+ coach database to find the perfect instructor for you.
Find Your Coach
02
Book Your Lessons
Our team is here to help you every step of the way. If you have any questions or want to purchase over the phone, call us at 301.575.6112 or buy online now if you're ready to get started.
Get Started
03
Improve Your Game
Talk to your coach to schedule your first lesson at a court and time that is convenient for you. You'll have fun and be amazed how quickly you will improve when you're working with the right tennis coach.
Find Your Coach
Looking to Play More Tennis?
The PlayYourCourt community is the easiest way to meet new players in the Flagstaff area.
Learn More
More about tennis lessons in Flagstaff, AZ
Close-Up: The Tennis Scene In Flagstaff, AZ
Surrounded by mountain, desert, and ponderosa pines, Flagstaff, Arizona has something for everyone. Outdoor lovers flock to this city to hike, swim, and play on one of Flagstaff, AZ's many tennis courts. Leagues play year-round, but the full swing comes in spring, when the courts are sunny and cool.
The Flagstaff Tennis Association is dedicated to developing the tennis community and holds events on Flagstaff, AZ's many public tennis courts. The city is home to a variety of courts including hard courts, imitation grass (Omni) courts, and Acrylic Courts. Membership is open to both part-time and full-time residents and includes access to tennis leagues, tennis lessons, and junior tennis lessons. Of course for the best coaches at even cheaper prices, you'll want to book through PlayYourCourt.
Tennis clubs in Flagstaff include the Continental Tennis Club, the Flagstaff Tennis Program featuring fun Friday Night Tennis, and the Flagstaff Athletic Club. All facilities offer a number of courts as well as tennis lessons with top tier pros. Taking tennis lessons in Flagstaff, AZ is a great way to connect with the community. The pros here specialize in junior tennis lessons as well as adult clinics, so the whole family can be ready to play!
In Flagstaff, AZ, tennis lessons with PlayYourCourt serve up a way to get connected while also improving your skills. Be sure to sign up for adult tennis lessons in Flagstaff, AZ or risk not getting to be a part of the amazing tennis community there.
Featured PlayYourCourt Coach Providing Tennis Lessons In Flagstaff, AZ
Ron B. is our featured coach providing tennis lessons in Flagstaff! Ron is a highly dedicated coach with college level playing experience and over thirty years of being an instructor. Ron has worked across several different tennis environments including Director of Tennis, Head Pro, Tennis Coordinator, Staff Instructor, Tennis Service Representative, writer and more. His expertise is in solving the problems his students are struggling with quickly and effectively. He works with any level of player and is positive and encouraging. If you're looking for tennis lessons in Flagstaff, Ron is an excellent choice!