See what our 100,000+ students are saying...
Top-Rated Tennis Coaches in Ft. Lauderdale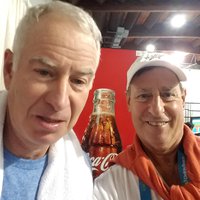 Played doubles with Stan Smith, singles with Roy Emerson
All ages and skill levels - Great with Beginners and Intermediates
USPTA Certified Professional - 23 Years Teaching Experience
Former Division 1 tennis player with 9 years teaching experience
Teach all ages and skills - great with beginners and kids
Patient, encouraging, and fun teaching style
Here's what you can expect from a PlayYourCourt tennis coach in Ft. Lauderdale...
Our coaches come to any court of your choice for tennis lessons in Ft. Lauderdale

We work with your schedule to squeeze tennis lessons into your busy life
You'll get the best tennis coach in Ft. Lauderdale based on hundreds of 5-star reviews

We work with all ages and skill levels - kids tennis lessons, adult lessons, and beginner lessons
What makes our tennis lessons in Ft. Lauderdale better?
The Perfect Coach
We find you the best coach for your specific tennis goals.
Play When You Want
We work with your schedule to squeeze tennis into your busy life.
Courts Near You
Your lessons are just minutes away on a nearby court.
01
Choose Your Coach
Finding the right tennis coach is difficult, but we've already done the hard work for you. Tell us your goals and our coach-finder will search our 2,000+ coach database to find the perfect instructor for you.
Find Your Coach
02
Book Your Lessons
Our team is here to help you every step of the way. If you have any questions or want to purchase over the phone, call us at 301.575.6112 or buy online now if you're ready to get started.
Get Started
03
Improve Your Game
Talk to your coach to schedule your first lesson at a court and time that is convenient for you. You'll have fun and be amazed how quickly you will improve when you're working with the right tennis coach.
Find Your Coach
Looking to Play More Tennis?
The PlayYourCourt community is the easiest way to meet new players in the Ft. Lauderdale area.
Learn More
More about tennis lessons in Ft. Lauderdale, FL
Close-Up: The Tennis Scene In Ft Lauderdale, FL
Located on Florida's southeastern coast, Fort Lauderdale is known for its beaches and boating canals. Clocking in with 3,000 hours of sunshine a year and an average year-round temperature of 75.5 °F, this sunny spot is the perfect place to play the world's favorite sport.
Some might call it the land of the lotus eaters, but Fort Lauderdale has an active community that loves country club sports like golf and tennis. The Jimmy Evert Tennis Center is known throughout the world as one of the finest tennis facilities. It has a history of developing the skills of young tennis players as well as refining the talents of professionals like Chris Evert and Jennifer Capriati. Recently featured on Tennis Itinerary, the Evert Tennis Center is a destination for tennis players across the globe.
But Jimmy Evert Center isn't the only place to play, access adult tennis lessons and kid's tennis lessons is available at many clubs and public facilities. The Lauderdale Tennis Club and the South Florida Tennis Club have facilities that reflect the affluent Southern Florida vibes and the city's 74 public tennis courts make the game accessible to anyone. It's a beautiful place to learn tennis, to enhance your current skill set, to socialize with other players, and to swing a racquet.
Featured PlayYourCourt Coach Providing Tennis Lessons In Ft Lauderdale, FL
Tim S. is our featured coach providing tennis lessons in Ft Lauderdale! Tim is a former top 100 ranked junior tennis player in the world, and now focuses his energy on working with enthusiastic tennis players of all levels. Tim grew up in Switzerland, where he received his tennis lesson certifications, and now calls Ft Lauderdale home. There is no type of tennis player that Tim can't teach, and his enthusiasm on court make him a hit with every type of person!