Answer a few Questions to Find Your Perfect Coach
Finding the right tennis coach is difficult, but we've already done the hard work for you. Tell us your goals and our coach-finder will search our 2,300+ coach database to find the perfect instructor for you.

Schedule Your Lessons When & Where You Choose
Schedule your lessons at courts and times that are convenient for you. If you need any help or have questions, our concierge team is here to help you every step of the way.
Learn, Play and Improve Your tennis Game
Our top-rated coaches are knowledgeable, fun and patient. You'll be amazed how quickly you will improve when you're working with a coach hand-picked just for you.
Top-Rated Tennis Coaches in Monterey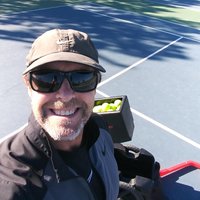 Santa Clara, CA
As low as: $144/hr
Unlock VIP Pricing $134/hr
Experienced and successful with all ages and skill levels.
State-of-the-art teaching methods and training aids.
PTR-certified Professional since 2009, with continuing education.
WANT HELP?
If you have questions or need some help, give us a call at 301.575.6112 or book online now if you're ready to get started.
The New Way to Elevate Your Tennis Game
What makes our tennis lessons better?
FIND THE BEST COACH
Our concierge approach will find your perfect coach based on your age, skill level and goals
Play on Courts Near You
We come to a local court near you, so you don't have to travel far
Easy, Flexible scheduling
Schedule lessons when convenient for you, so you can squeeze tennis into your busy lifestyle
No Expensive Club Required
Save thousands on an expensive tennis or country club membership
Frequently Asked Questions
Where will the lessons take place?

Your coach will come to any court of your choice. Not sure of the closest court? No sweat, they will recommend a convenient location.

How do I know I'll love my coach?

We ask you questions and hand pick the perfect coach based on what you are looking for. We are so confident in our coach selection process that we offer a 100% satisfaction guarantee. If we can't find the perfect instructor for you then we will refund your unused lesson credits.

Can I start with just one lesson?

You sure can, although we offer a 100% money back guarantee so most students start with a lesson package to save money since there is no risk.

How do I get in contact with my instructor?

Once you have booked your lesson package, you will immediately receive your instructor's contact information. The quickest way to schedule your first lesson is to call or text your coach and they'll get back to you asap. If your coach doesn't hear from you they'll reach out within 24 hours.

I've never played before, do you work with beginners?

Absolutely! Our certified instructors regularly work with players of all ages and ability levels.

Can I bring a friend?

Absolutely! Each extra person is only an additional $10 per hour. Adding friends to your lesson is a great way to cut down on your lesson costs.
More about tennis lessons in Monterey, CA
Close-Up: The Tennis Scene In Monterey, CA
The beautiful coastal city of Monterey, California, plays home to more than just a famous aquarium. Tennis players will find numerous options to stretch their muscles and practice their serves.
For tennis club options, look to the Chamisal Tennis & Fitness Club. This family-friendly club looks over the beautiful Corral De Tierra. Choose from a variety of membership options and enjoy tennis tournaments and camps, full service facilities as well as a pro shop, restaurant, pool, and spa for relaxing between rounds.
Those seeking a more upscale tennis club experience should investigate Nicklaus club. Situated in a 575-acre residential community near the coast, the club has classic country club amenities: clubhouse, restaurant, pool facilities, and, of course, tennis. The club has five DecoTurf tennis courts, pro shop, and a "comprehensive" program for all ages.
Those seeking a no-frills option to practice, check out the Monterey Tennis Center. Players can use the facilities regardless of membership for a low fee. Members can reserve one of the six lighted courts up to 30 days in advance with no fee. All in all there are eighteen public tennis facilities in Monterey, CA, most of which boast stunning views as players work up a sweat.
Featured PlayYourCourt Coach Providing Tennis Lessons In Monterey, CA
Jeff M. is our featured coach providing tennis lessons in Monterey! Jeff is a PTR certified coach who worked for and learned to teach from world renowned coach Ken DeHart. Before his teaching career began, Jeff was ranked #25 in the 2013 USTA Men's 50 Singles Final Ranking. He specializes in private tennis lessons and small group tennis lessons and focuses on stroke mechanics, footwork, and tactics for both singles and doubles. If you're looking for tennis lessons in Monterey, CA, Jeff is the perfect choice.