See what our 100,000+ students are saying...
Top-Rated Tennis Coaches in Port St Lucie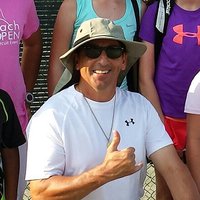 PTR certified instructor adults 10 and under 8t years experience
PTR certified instructor 10 and under
Currently running kids camp, tennis fitness cardio etc.
Here's what you can expect from a PlayYourCourt tennis coach in Port St Lucie...
Our coaches come to any court of your choice for tennis lessons in Port St Lucie

We work with your schedule to squeeze tennis lessons into your busy life
You'll get the best tennis coach in Port St Lucie based on hundreds of 5-star reviews

We work with all ages and skill levels - kids tennis lessons, adult lessons, and beginner lessons
What makes our tennis lessons in Port St Lucie better?
The Perfect Coach
We find you the best coach for your specific tennis goals.
Play When You Want
We work with your schedule to squeeze tennis into your busy life.
Courts Near You
Your lessons are just minutes away on a nearby court.
01
Choose Your Coach
Finding the right tennis coach is difficult, but we've already done the hard work for you. Tell us your goals and our coach-finder will search our 2,000+ coach database to find the perfect instructor for you.
Find Your Coach
02
Book Your Lessons
Our team is here to help you every step of the way. If you have any questions or want to purchase over the phone, call us at 301.575.6112 or buy online now if you're ready to get started.
Get Started
03
Improve Your Game
Talk to your coach to schedule your first lesson at a court and time that is convenient for you. You'll have fun and be amazed how quickly you will improve when you're working with the right tennis coach.
Find Your Coach
Looking to Play More Tennis?
The PlayYourCourt community is the easiest way to meet new players in the Port St Lucie area.
Learn More
More about tennis lessons in Port St Lucie, FL
Close-Up: The Tennis Scene In Port St. Lucie, FL
Port St. Lucie, Florida, is not just home to New York Mets spring training. The city also has many tennis options, both public and private.
The Whispering Pines Tennis Center, at Whispering Pines Park, is a city-run tennis center that has 14 lighted courts, a shaded grandstand, bathrooms, and 8 lined pickleball courts. Private lessons are available and the center has won a USTA Outstanding Facility Award.
There are four more public tennis court options in Port St. Lucie. Lyngate Park, Jessica Clinton Park, Sportsman's Park, and Charles Ray Park. All have 2 lighted courts. Lyngate Park also has a dog park for canine lovers.
The swim and racquet club at the Tesoro Club is a great option for those seeking a more upscale tennis experience. Set in in Florida wetlands, this club calls itself the "Treasure of South Florida." It covers over 100,000 square feet with full spa and fitness options. Tesoro's tennis and swim center overlooks the lake and has 10 Har-Tru tennis courts, an exhibition stadium court, and two croquet courts. Members also have access to tennis lessons and clinics, and a full-service pro shop.
For a more affordable option for tennis lessons on a local court be sure to book with a PlayYourCourt coach!
Featured PlayYourCourt Coach Providing Tennis Lessons In Port St. Lucie, FL
Phil K. is our featured coach providing tennis lessons in Port St. Lucie! Phil is a PTR certified instructor with over 10 years of coaching experience. Phil runs many chapters of local kids and cardio tennis programs, but his coaching skills extend beyond juniors and workout focused tennis lessons. In fact, he has coached previous Open winners as well as a Davis Cup captain! His private tennis lessons will center around whatever personal goals you want to work towards, and his is excellent with any kind of player. If you're looking for an amazing tennis lesson in Port St. Lucie, Phil is the perfect fit.