See what our 100,000+ students are saying...
Top-Rated Tennis Coaches in Savannah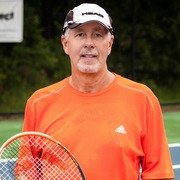 PTR certified professional with 10+ years of teaching experience
Teach all ages and skill levels - great with kids & beginners
Fun, patient and encouraging teaching style
Here's what you can expect from a PlayYourCourt tennis coach in Savannah...
Our coaches come to any court of your choice for tennis lessons in Savannah

We work with your schedule to squeeze tennis lessons into your busy life
You'll get the best tennis coach in Savannah based on hundreds of 5-star reviews

We work with all ages and skill levels - kids tennis lessons, adult lessons, and beginner lessons
What makes our tennis lessons in Savannah better?
The Perfect Coach
We find you the best coach for your specific tennis goals.
Play When You Want
We work with your schedule to squeeze tennis into your busy life.
Courts Near You
Your lessons are just minutes away on a nearby court.
01
Choose Your Coach
Finding the right tennis coach is difficult, but we've already done the hard work for you. Tell us your goals and our coach-finder will search our 2,000+ coach database to find the perfect instructor for you.
Find Your Coach
02
Book Your Lessons
Our team is here to help you every step of the way. If you have any questions or want to purchase over the phone, call us at 301.575.6112 or buy online now if you're ready to get started.
Get Started
03
Improve Your Game
Talk to your coach to schedule your first lesson at a court and time that is convenient for you. You'll have fun and be amazed how quickly you will improve when you're working with the right tennis coach.
Find Your Coach
Looking to Play More Tennis?
The PlayYourCourt community is the easiest way to meet new players in the Savannah area.
Learn More
More about tennis lessons in Savannah, GA
Close-Up: The Tennis Scene In Savannah, GA
Famed for its Southern Gothic architecture and picture-perfect manicured lawns and parks, Savannah, GA is truly the jewel of the south. The tennis scene in Savannah is just as genteel as the community. The Savannah Area Tennis Association is open to residents of the Savannah area and offers tennis leagues for both adults and children. Athletes can set up a variety of matches including singles, doubles and mixed doubles. Players have access to USTA leagues as well as team tennis programs.
For a private community, The Landing Club offers the nation's largest residential clay court facility, with 33 courts – 11 of which are lit for day and night play. The Landing Club offers tennis lessons at the Landings Tennis Academy where players are coached with the Learn, Train and Play philosophy. Members of all levels can improve their strokes, strategies, tactics and mental training on the court. The Landing Club also offers a court replete with PlaySight's SmartCourt video that reviews your game and helps you overcome bad habits.
In Savannah, GA finding adult tennis lessons and kids tennis lessons is easy with a PlayYourCourt coach. You can arrange to meet one of our experts at one of the many public tennis courts in the area. The City of Savannah, GA itself offers open play and organized tennis activities for juniors and adults.
In early 2016, the Savannah Morning News reported that Armstrong University, located in Savannah, unveiled new tennis facilities on the campus itself. Because of substandard quality, the Armstrong tennis team had been using the tennis courts at the Bacon Park Tennis Complex off of campus, which meant those courts were difficult to get time on for non-University players. No longer! Now the University boasts 12 hard courts with modern electronic scoreboards, lights, and sparkling new conditions.
Tennis is certainly a wonderful way to ingratiate yourself in Savannah, GA society, but remember that this is the south and good manners are required both off the court and on it.
Featured PlayYourCourt Coach Providing Tennis Lessons In Savannah, GA
Joshua C. is our featured coach providing tennis lessons in Savannah! Josh is PTR certified with five years of coaching experience. While competing locally, Josh took home multiple first place finishes and loves to help his students work towards winning levels. He also annually helps coach the tennis athletes for the Special Olympics. If you are looking for fun beginner tennis lessons, or advanced tennis lessons, in Savannah, Josh is the perfect coach for you!