Answer a few Questions to Find Your Perfect Coach
Finding the right tennis coach is difficult, but we've already done the hard work for you. Tell us your goals and our coach-finder will search our 2,300+ coach database to find the perfect instructor for you.

Schedule Your Lessons When & Where You Choose
Schedule your lessons at courts and times that are convenient for you. If you need any help or have questions, our concierge team is here to help you every step of the way.
Learn, Play and Improve Your tennis Game
Our top-rated coaches are knowledgeable, fun and patient. You'll be amazed how quickly you will improve when you're working with a coach hand-picked just for you.
Top-Rated Tennis Coaches in Providence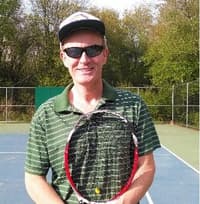 Cumberland , RI
As low as: $84/hr
Unlock VIP Pricing $79/hr
Excellent teacher & student of the game at a reasonable price
All ages & skill levels - kids / adult / beginner / intermediate / adv
Low stress, efficient, to-the-point training, fast learning curve!
WANT HELP?
If you have questions or need some help, give us a call at 301.575.6112 or book online now if you're ready to get started.
The New Way to Elevate Your Tennis Game
What makes our tennis lessons better?
FIND THE BEST COACH
Our concierge approach will find your perfect coach based on your age, skill level and goals
Play on Courts Near You
We come to a local court near you, so you don't have to travel far
Easy, Flexible scheduling
Schedule lessons when convenient for you, so you can squeeze tennis into your busy lifestyle
No Expensive Club Required
Save thousands on an expensive tennis or country club membership
Frequently Asked Questions
Where will the lessons take place?

Your coach will come to any court of your choice. Not sure of the closest court? No sweat, they will recommend a convenient location.

How do I know I'll love my coach?

We ask you questions and hand pick the perfect coach based on what you are looking for. We are so confident in our coach selection process that we offer a 100% satisfaction guarantee. If we can't find the perfect instructor for you then we will refund your unused lesson credits.

Can I start with just one lesson?

You sure can, although we offer a 100% money back guarantee so most students start with a lesson package to save money since there is no risk.

How do I get in contact with my instructor?

Once you have booked your lesson package, you will immediately receive your instructor's contact information. The quickest way to schedule your first lesson is to call or text your coach and they'll get back to you asap. If your coach doesn't hear from you they'll reach out within 24 hours.

I've never played before, do you work with beginners?

Absolutely! Our certified instructors regularly work with players of all ages and ability levels.

Can I bring a friend?

Absolutely! Each extra person is only an additional $10 per hour. Adding friends to your lesson is a great way to cut down on your lesson costs.
More about tennis lessons in Providence, RI
Close-Up: The Tennis Scene In Providence, RI
The draws of Providence, Rhode Island, are many and include beautiful scenery, a thriving cultural and educational community, and ample opportunities for playing some tennis. Providence is home to several membership-free club options. The first is Centre Court Tennis Club, which offers clinics, camps, and tournaments.
The second is Tennis Rhode Island which was founded in the area in 1965 and has been a strong supporter of the local tennis community for decades. The club offers leagues, court reservations, and private tennis lessons, though they are at a steep rate. Players also benefit from the club's "Racket Center," with professionals available to fix equipment and offer advice on new gear.
Junior players who are serious about competing and don't mind sticking to a rigid schedule can check out the Providence Tennis Academy. Players can enroll in Winter or Spring sessions that last about five weeks. The academy is directed by Nestor Bernabe, an NCAA All-American tennis player and USTA New England Board Member of the Tournament Committee since 2015.
The city also offers summer camps for young teenage players at several of the city's parks. One of the best public tennis options is the Todd Morsilli Tennis Center, located at Roger Williams Park and boasting 10 tennis courts. Near downtown Providence but in a green setting, the center has the only public clay courts in the state. After you've taken some tennis lessons with a Providence, RI PlayYourCourt coach, check out the city's tennis players MeetUp, which boasts over 500 members and has hosted over 1,000 tennis events citywide.
Featured PlayYourCourt Coach Providing Tennis Lessons In Providence, RI
Raymond L. is our featured coach providing tennis lessons in Providence! He brings with him 5 years of coaching experience and a PTR certification. Raymond made the NCAA All Star Team in the past, was the Standard Times Tennis Player of the Year, and was the Head Pro at the Dartmouth Indoor Tennis Center. He is an exceptionally motivating coach that imbues his tennis lessons with positivity. If you thrive with an encouraging coach than Raymond is the perfect pro to give you tennis lessons in Providence, RI.